The Best Vegan 'Pulled Pork' Sandwich!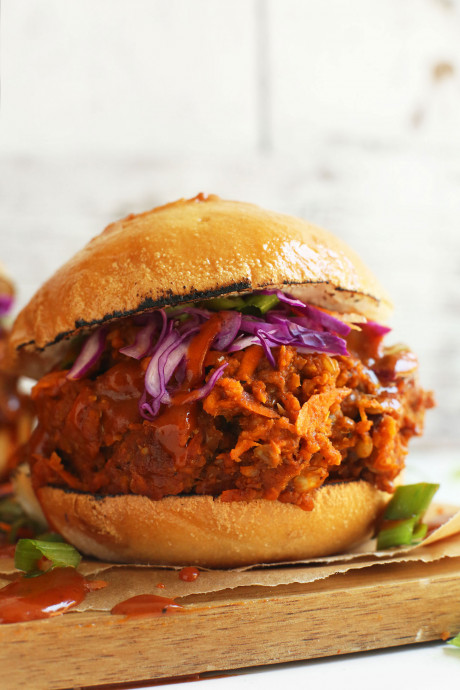 Yep, this is happening. Healthy, 10-ingredient vegan "pulled pork" sandwich with tons of smoky, sweet flavor and 17 G PROTEIN per serving!
Let's BBQ! This recipe is simple, requiring just 10 ingredients, and it comes together in less than 45 minutes! You likely have everything you need on hand besides BBQ sauce and buns (unless you're like me and hoard these things in your pantry).
To infuse the lentils and shredded carrots – which add that amazing, stringy texture – with flavor, I relied on smoked paprika, coconut sugar, garlic powder, and sea salt. A little BBQ sauce sealed the deal for that quintessential smoky BBQ flavor.
Ingredients:
LENTILS
2 cups water
1 cup green lentils (well rinsed)
SEASONINGS / CARROTS
2 Tbsp olive or grape seed oil
1/2 medium white or yellow onion (minced // plus more for serving)
1 1/2 cups packed finely shredded/grated carrots (I used my food processor attachment)
2 Tbsp coconut sugar or organic brown sugar (plus more to taste)
1 1/2 tsp ground paprika (we prefer smoked)
1 tsp garlic powder
1 healthy pinch each sea salt + black pepper (plus more to taste)
3/4 cup vegan BBQ sauce (plus more for serving // I used Annie's original BBQ sauce)
2 Tbsp water
FOR SERVING
4 medium gluten-free or whole-wheat hamburger buns*
Finely chopped purple cabbage, carrot, and green onion (optional)