Poutine With Waffle Fries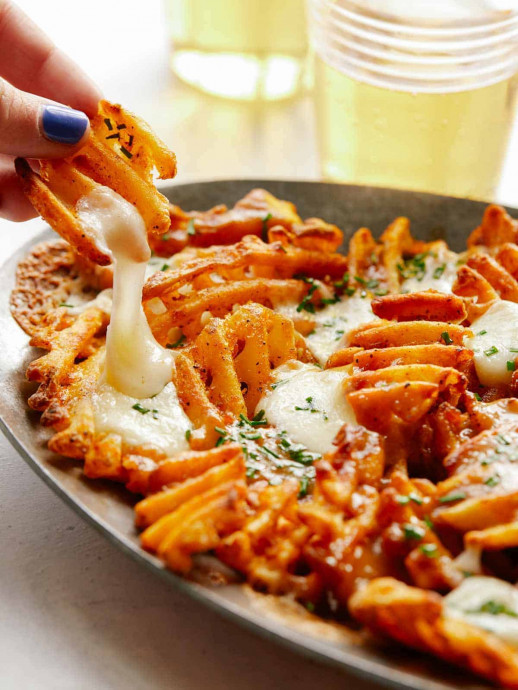 Today we have a recipe for Poutine with Waffle Fries for you guys! This recipe couldn't be easier to make! It's a great game day appetizer to throw together for a crowd, simple and delicious!
Poutine is a dish consisting of French fries, cheese curds and gravy. Poutine is a Canadian dish that originated in the Centre-Du-Quebec region of Quebec around the 1950's. Although several restaurants and diners have claimed to have created the dish first, no official consensus has been made. Many people consider poutine as the ultimate comfort food. It's a combination of savory, crisp and salty. The different components remind people of cozy childhood food.
Although the original and basic components of poutine consist of french fries, cheese curds and gravy, there are many variations today that include a protein such as (but not limited to) braised short ribs, sausage, brisket, shredded chicken, and pulled pork. Other versions also call for potatoes in different forms such as Poutine with Waffle Fries (like our version today!) or tater tots.
Ingredients:
Waffle Fries
1 pound frozen waffle fries (of choice)
Gravy
3 tbsp unsalted butter
1 clove garlic
3 tbsp all purpose flour
12 oz high quality beef broth
salt and pepper to taste
Poutine
4 oz white cheese curds
2 tbsp thinly sliced chives