Chilaquiles Frittata Bake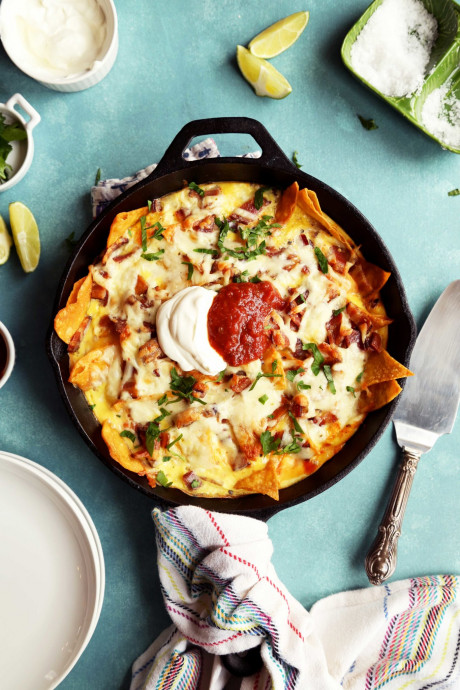 It's often right before dinner is served that I start to think about breakfast. It's about 12 minutes before hangry energy sets in, 10 minutes before I gussy up a plate of food for myself, and 20 minutes before I'm full once again and breakfast is a distant future thought.
There's that special time when I try to sort through the clutter of my fridge in my mind's eye and dream up tomorrow's future.
This chilaquiles is a product of those pre-dinner daydreams and thank goodness I had a can of diced tomatoes in the pantry. It feels really good when the pantry stars align. Layers of baked tomatoes, crisp-fried tortillas, bacon, eggs, and cheese. It's like a frittata casserole that goes from the stovetop to the oven and emerges somehow in between nachos, breakfast, and a chips and salsa binge.
And while this makes an absolutely satisfying breakfast, it also makes a very fine dinner skillet.
Ingredients:
1 14-ounce can diced tomatoes
2 cloves garlic, peeled and sliced
1/2 teaspoon ground cumin
1/2 teaspoon chili powder
1/2 teaspoon crushed red pepper flakes
1/4 teaspoon garlic powder
8 tortillas, each tortilla cut into 6 wedges
1/4 cup vegetable oil
sea salt and fresh cracked black pepper
6 sliced crisp bacon, diced
8 large eggs
2 tablespoons whole milk
1/2 cup grated monterey or pepper jack cheese
chopped fresh parsley, a dollop of sour cream, a dollop of salsa for topping