Almond Butter Chocolate Chip Zucchini Bars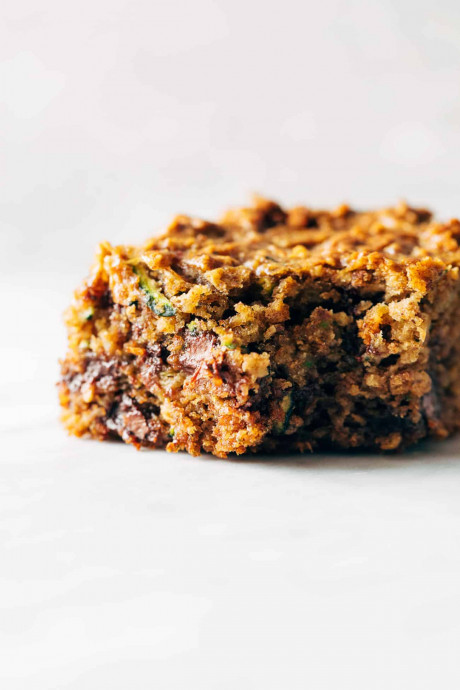 Let me tell you 7 of the 100+ things I love about these zucchini bars:
Super easy to make. No fuss whatsoever.
Shockingly nutritious. No refined sugar or flour. All ingredients that you can feel good about – oats, olive oil, maple syrup, zucchini, almond butter, etc.
Pantry friendly! You probably have everything you need already.
Breakfasty, but also snacky and desserty. There is no such thing as a bad time for these.
Delicious served warm or (wait for it) cold out of the fridge on a hot summer day. SO GOOD. Extremely popular with the kidlets because they are so yummy.
Even more popular with the parentals who let the kidlets eat almost as many bars as they want because of the aforementioned wholesome factor. If you can ignore my use of the words kidlets and parentals and just only take the really good things from that list, then you will be tracking with me on the awesomeness of these bars.
Ingredients:
2 cups rolled oats
1/4 cup + 2 tablespoons olive oil
1/4 cup almond butter
1/4 cup maple syrup
8 medjool dates, pitted
1–2 zucchini, grated and squeezed once (about 2 cups total, divided)
2 eggs
1 teaspoon baking soda
pinch of kosher salt
chocolate chips (optional, for topping)