Banana Bread Baked Oats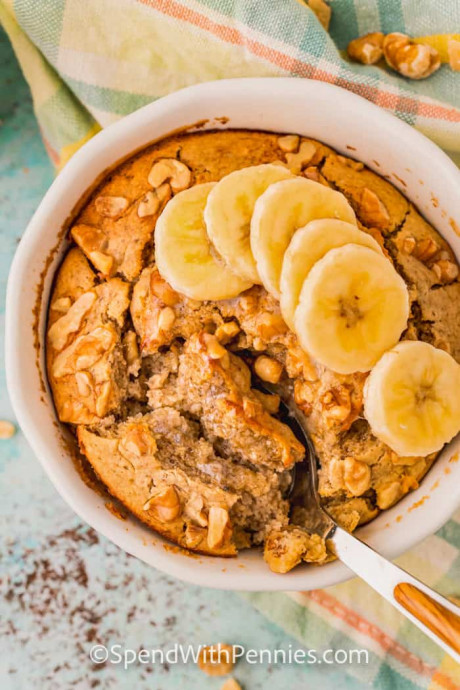 Baked oats taste almost like a breakfast cake, a healthy, deliciously cozy way to start a busy day!
These oats are filled with healthy ingredients and take just minutes to blend. Top the oats with fresh bananas and a bit of butter to serve.
Quick and easy to assemble, bake, and serve. One dish for everyone in the morning is an energy saver!
Protein and fiber-filled to keep everyone going all day! The batter can be prepared the night before and kept covered in the refrigerator until ready to bake. Add 5 minutes to the baking time.
For super crunchy nuts with more flavor, toast them in a dry sauté pan for about 3 minutes or until fragrant.
Top with warmed maple syrup, whipped cream, and if serving as an after-school treat or dessert, a scoop of vanilla ice cream!
Most ceramic or glass dishes are oven-safe. Check the bottom of your bowl to make sure.
Depending on the dish size, you may need a few minutes more or less.
Ingredients:
1 banana divided
½ cup old fashioned oats
½ cup almond milk
1 tablespoon agave
½ tablespoon chia seeds
1 teaspoon baking powder
½ teaspoon vanilla
¼ teaspoon salt
1 scoop collagen optional
2 tablespoons walnuts chopped
salted butter for topping