Easy Muhammara Dip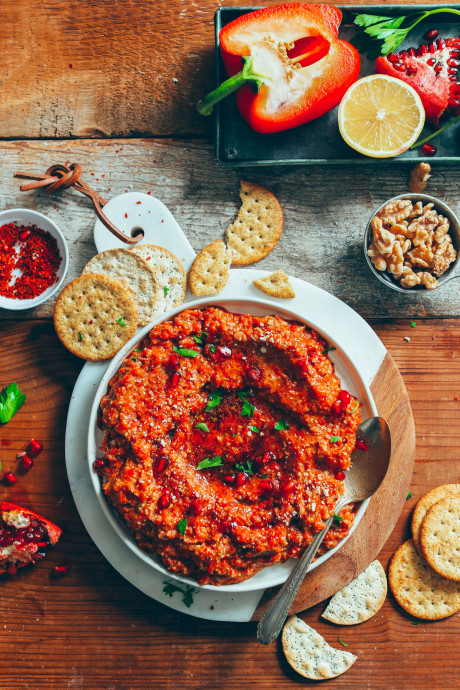 Have you ever tried muhammara? It's a spicy pepper dip that originated from Aleppo, Syria, with one of the key ingredients being Aleppo chili flakes! Think of this dip as a mix of savory, sweet, and smoky with a little spice. Let's do this! This recipe is easy, requiring just 10 ingredients (I include substitutions for hard-to-find ingredients below) and simple methods. And it all starts with roasted red bell peppers for a smoky, sweet base. Next comes lemon for acidity, walnuts for bite, cumin for smokiness, Aleppo chili flakes for heat, pomegranate molasses for sweetness and depth of flavor, bread crumbs for texture, olive oil for body, and salt for overall flavor.
Friends, the result is dreamy. Ready your pita – we're going in. This would make a delicious starter, side, or dip for hosting or weeknight meals. Because it's quite creamy, it pairs especially well with fresh pita bread.
Easy, flavorful muhammara dip with roasted red peppers, Aleppo pepper flakes, walnuts, and pomegranate molasses! 10 ingredients, gluten-free, BIG flavor.
Ingredients:
2-3 Tbsp pomegranate molasses
3 large red bell peppers (skin on)
3 Tbsp bread crumbs (vegan + gluten-free // I like Ian's GF panko bread crumbs)
1/2 tsp ground cumin
1/2 tsp sea salt, plus more to taste
2 tsp Aleppo chili flakes (plus more to taste // or sub 1/4 the amount of red pepper flakes)
1 clove garlic (minced // or sub garlic-infused oil)
1/2 cup raw walnuts* (loosely chopped)
1 Tbsp olive oil (if avoiding oil, omit)
2 Tbsp lemon juice
FOR SERVING optional
Vegan Gluten-Free Crackers
Garlic & Herb Flatbread
Veggies of choice