Fish with White Wine Sauce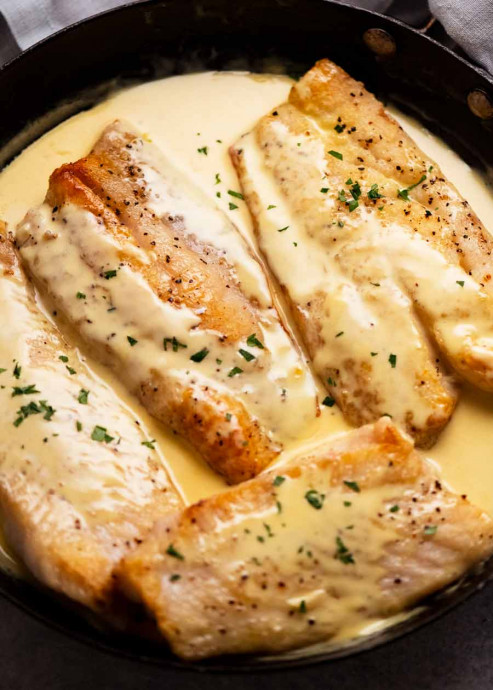 This is a beautiful wine sauce for fish that oozes swanky vibes. Glossy-white, rich and singing with the gently tart flavors of white wine and lemon, it's the sort of sauce that comes in a little porcelain jug accompanying the pricey sole dish you ordered at that ritzy French joint on your birthday.
Truth be told, we do deploy a little restaurant-style trick to achieve that beautiful sheen and luxurious mouthfeel to the sauce. But don't be discouraged: this sauce is actually shockingly easy to make!
Today, I'm sharing this white wine sauce paired with fish. But this sauce would also be terrific with crustaceans (shrimp/prawns, lobster/crayfish, crab), poultry (pan seared chicken breast or thighs just sprinkled with salt and pepper), or pork chops (I'd opt for fairly lean ones).
Any firm white fish fillets suitable for pan frying will work here. Even salmon will work great (though it will be quite rich!) Here are suggestions for common fish in my primary readership countries that are ideal for serving with this white wine sauce:
Australia: Barramundi, Blue eye cod / trevalla, Basa, Bream, Cod, Flathead, Flounder, Jewfish, John Dory, Ling, Monkfish / Stargazer, Ocean perch, Trout (ocean and river), Orange roughy, Salmon, Whiting.
US: Above and below listed, plus Alaskan pollock, Catfish, Halibut, Pangasius, Tilapia, Mahi-mahi.
UK: Above listed, plus Dover sole, Haddock, Hake, Pollack, Sea bass, Turbot.
Ingredients:
4 x 150g / 5oz white fish fillets , skinless, boneless
1/2 tsp salt
1/4 tsp pepper
2 tbsp extra virgin olive oil
1 eschalot , small, finely chopped
1 1/4 cups white wine , dry, not sweet or too woody (chardonnay is especially good, Note 3)
1 tsp lemon juice (sub white wine vinegar)
1 tsp white wine vinegar (sub more lemon)
1/8 tsp salt
1 pinch pepper
1 pinch white sugar
1 cup thickened/heavy cream
30g / 2 tbsp unsalted butter , cold, cut into 1cm / 1/3″ cubes
2 tsp finely chopped parsley (or chives)