Spumoni Ice Cream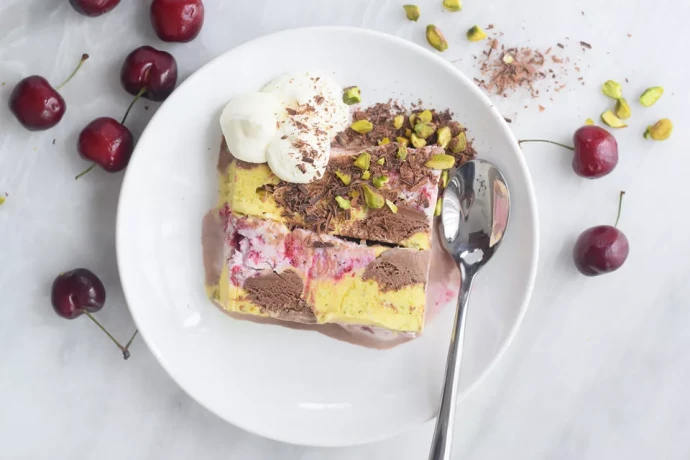 From the pistachio custard and cherry ice cream to the fudgy chocolate base, this ice cream is an Italian classic that is sure to please lots of palates. Most people are probably more familiar with its sister ice cream trifecta, Neapolitan ice cream. Spumoni also combines three flavors of ice cream, but instead of strawberry and vanilla, it features cherry and pistachio.
It's a little more unique and definitely not something you will find in every grocery freezer. Spumoni is a labor of love to make at home, but the quality can't be beaten. We've made the recipe a little easier for you by incorporating a store-bought chocolate ice cream and a semi-homemade cherry ice cream. There's no replacing the decadent pistachio frozen custard, so that's best made from scratch…trust us, it's worth it!
You'll love this ice cream if you love fruit, chocolate, and nut combos like chocolate-covered cherries. It's a decadent dessert for a dinner party, but you can also turn them into ice cream sandwiches with some homemade cookies as a frosty summertime treat for kids.
Ingredients:
For Pistachio Frozen Custard:
3 large egg yolks
3/4 cup heavy cream
3/4 cup whole milk
1/3 cup sugar
1/2 teaspoon kosher salt
1/2 teaspoon vanilla extract
1/4 teaspoon almond extract
1/4 cup pistachios, coarsely chopped
For Cherry Ice Cream:
3/4 cup cherries, pitted and halved
2 tablespoons sugar
1 teaspoon cornstarch
1/4 teaspoon lemon juice
1/2 gallon vanilla ice cream
1/3 gallon chocolate ice cream
For the Garnish:
Chocolate bar, shaved
Pistachios, coarsely chopped