Roasted Snap Peas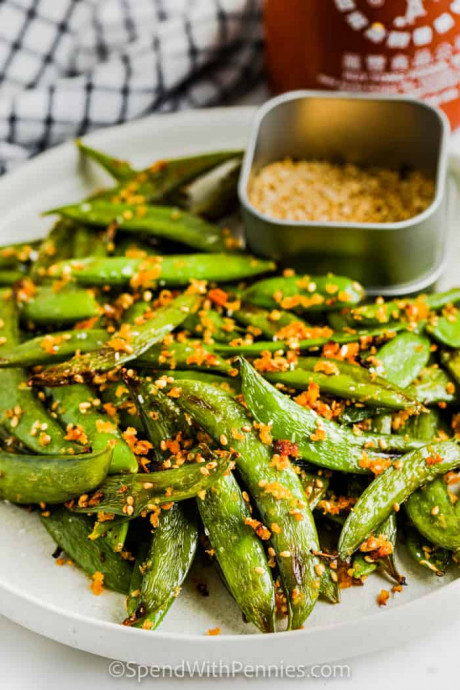 Green with a mild, crisp texture, sugar snap peas are tossed in a flavorful coating with a little crunch. These are great alongside almost any meal.
These sweet little pea pods are easy to find year-round in the produce section of most grocery stores.
Short on time? Frozen snap peas will work for this recipe.
Snap peas can be eaten raw or lightly cooked. They are loaded with antioxidants and fiber so they make a healthy addition to any meal.
Just like Sesame Ginger Snap Peas, these are great alongside grilled chicken thighs or pork tenderloin or with a side of garlic butter rice. Keep roasted snap peas in a sealed container in the refrigerator for up to 4 days. They are great in salads and can be eaten warm or chilled. Colorful bright green crisps of roasted sugar snap peas are a delightful side dish or appetizer.
Ingredients:
12 ounces snap peas about 3 cups
1 tablespoon olive oil
½ teaspoon sriracha optional
2 teaspoons sesame seeds
1 tablespoon panko bread crumbs
1 clove garlic minced