Orecchiette with Sausage and Broccoli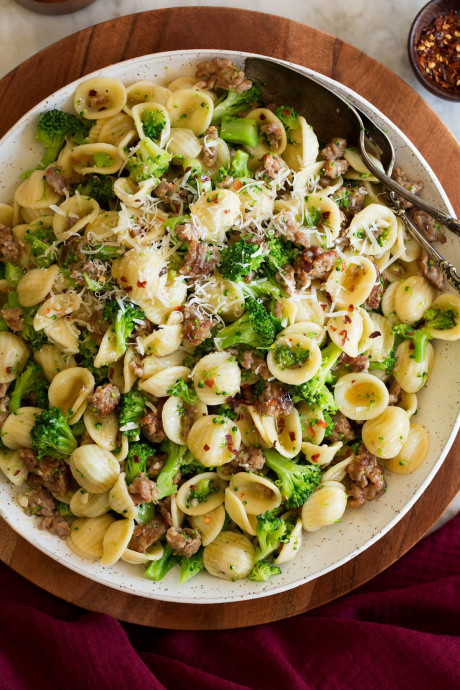 Orecchiette Pasta with Sausage and Broccoli is a super simple recipe that uses minimal ingredients yet packs rich, savory, satisfying flavors. It includes hearty pasta, seasoned Italian sausage, tender fresh broccoli, flavorful olive oil, and bold and nutty tasting parmesan.
Orecchiette is a type of southern Italian pasta shaped like little ears. The word 'orecchia' translates to 'ear' while the suffix 'etta' translates to 'small' or 'little'.
It is made from semolina flour and can be found in two sizes, but in the U.S. usually just one size (in this recipe we use the larger size that's about 1/2-inch, the smaller works well for soups). Orecchiette holds sauces well with it's bowl form, and it's a fun unique shape to cook with. Recipe was made with Italian pork sausage but Italian turkey sausage will be great too. Hot or mild may be used depending on what heat you prefer.
Ingredients:
1 lb broccoli crowns, bottom stalk trimmed and reserved for another use, remaining cut into florets
Salt and freshly ground black pepper
12 oz. orecchiette pasta
4 Tbsp extra-virgin olive oil, divided, plus more if desired
1 1/2 Tbsp minced garlic (4 cloves)
1 lb Italian sausage* (can use mild or hot)
2/3 cup (1.6 oz) finely shredded Parmesan, plus more for serving
1 1/2 cups reserved pasta water, divided
Red pepper flakes, for serving