Cinnamon Roll Cheesecake Bars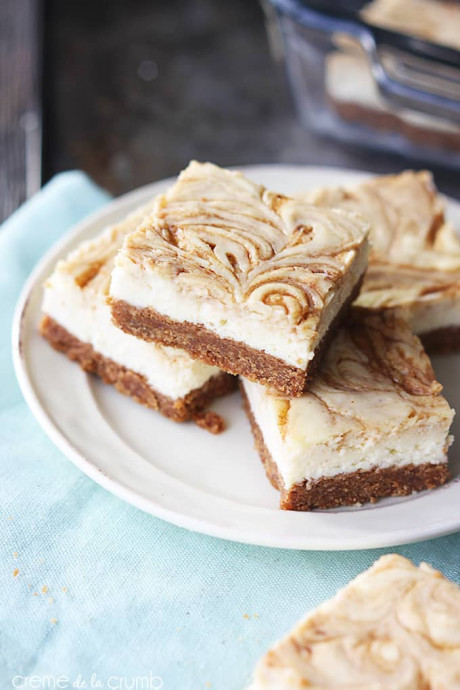 This is one of the tastiest, most unique bar recipes around. I regularly have people going crazy for this. Just wanted you to know I ALWAYS double the recipe and bake it in a 9 X 13.
I think I would like to eat cinnamon roll cheesecake things for the rest of my life please. These Cinnamon Roll Cheesecake Bars are sooooo so so so SO good! Why have I not had these for the past 20+ years?? The sweet and salty, cinnamony graham cracker crust, plus the rich and creamy cinnamon roll swirled cheesecake equals my own personal heaven. These are a piece of cheesecake to make (ha!) and are so worth less than an hour of your life. Please make these, and then share them with me. I'm hooked! Go on try one, you'll be hooked too, I guarantee it.
Ingredients:
Crust
12 graham cracker sheets
¼ cup sugar
½ cup butter - melted
1 tablespoon cinnamon
Cinnamon Roll Filling
¼ cup butter
½ tablespoon cinnamon
½ cup brown sugar
¼ teaspoon vanilla
1 tablespoon flour
Cheesecake
16 ounces cream cheese - softened
1 egg - at room temperature
⅓ cup sugar
2 teaspoons vanilla