Easy Strawberry Poke Cake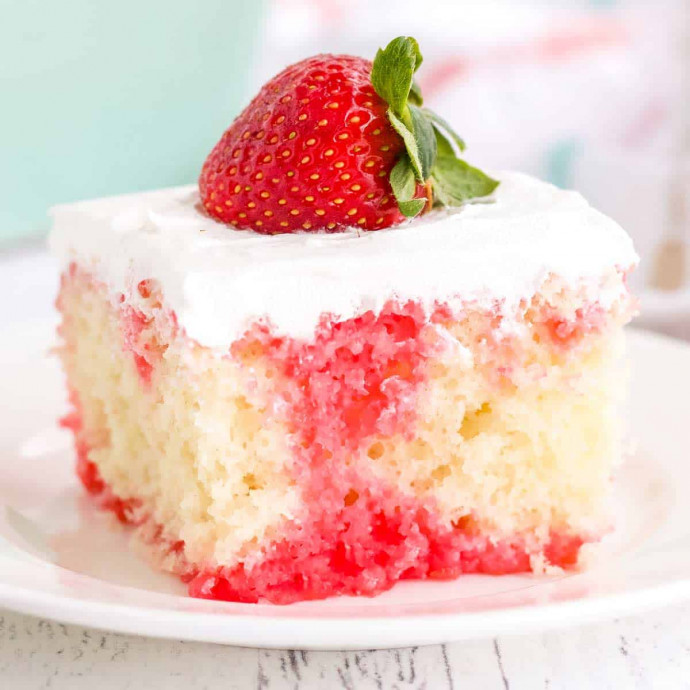 This Strawberry Poke Cake is the easiest and most delicious summer dessert around! Fluffy white cake is infused with strawberry jello, then slathered with whipped cream! Naturally a make ahead dessert, this is a dessert recipe the whole family will love!
I don't know about you, but I'm all about easy, make ahead dessert recipes. Especially as the weather warms up!
It might seem weird to you to pair Jello with cake, but trust me, it's a match made in heaven. The cake is so moist and packed with flavor, yet also feels super light at the same time. Perfect for summer!
Plus, it's such a simple, easy to make recipe. Although it does require a little forethought, since the cake does have to cool before you add the whipped cream topping.
In fact, you can even make this cake completely ahead of time, and let it hang out in the refrigerator overnight. The flavors get deeper and more meshed together, and all you have to do on the day of serving is add some strawberries on top!
Variations of this recipe
Sugar-free – I haven't specifically tested this, but I don't see why it wouldn't work. Use sugar free cake mix, Jello mix and whipped topping for a sugar-free dessert!
Other cake flavors – I like to use white cake mix because the neutral color pairs well with the brightness of the jello. However, you can switch up the cake mix and use strawberry, vanilla/french vanilla, or any other flavor you'd like.
Other Jello flavors – this recipe can serve as a method and will work with any Jello flavor you like!
Ingredients:
1 box white cake mix (plus ingredients to make the cake – check the box for directions)
1 3oz package strawberry Jello mix
1 cup boiling water
8 oz container frozen whipped topping thawed