Chipotle Black Bean Hummus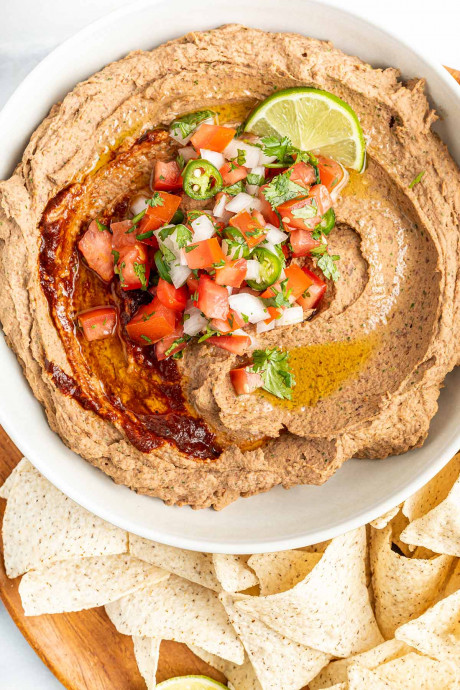 Black bean hummus with a kick of spicy, smoky chipotle peppers and topped with pico de gallo is a twist on a traditional hummus recipe. Combine everything in a food processor, blend and serve with tortilla chips, pita, vegetable sticks, or crackers for an easy appetizer or snack.
This easy hummus is a combo of two favorite things – a creamy, spreadable hummus dip made with tahini and olive oil with some favorite salsa ingredients like fresh cilantro, chipotle peppers, and chili seasonings. Instead of chickpeas, we've got black beans and instead of lemon juice, it has a twist of lime. It's a Middle Eastern meets Mexican mash-up that is perfect for all the appetizer-worthy events like game-day, holidays, and happy hours.
And, of course, it's easy. As in, pop everything in the food processor and blend. If you make it ahead it only gets better because the time allows all the flavors to fully mix, mingle, and marry together.
Ingredients:
2 (15-ounce) cans black beans, rinsed and drained
½ cup tahini
¼ cup fresh lime juice
¼ cup packed fresh cilantro
3 tablespoons chipotle pepper in adobo paste + additional for topping if desired
1 tablespoon olive oil + additional for topping if desired
1 garlic clove
1 teaspoon ground cumin
½ teaspoon cayenne pepper
½ teaspoon kosher salt
Pico de gallo, for garnish (optional)