Applebee's Oriental Chicken Salad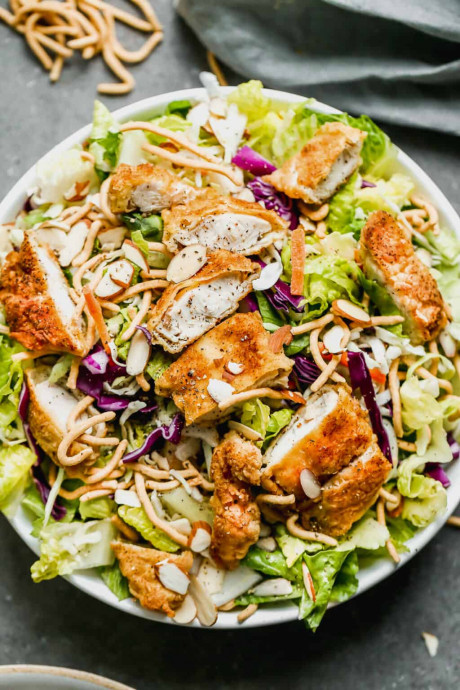 This gorgeous Copycat Oriental Chicken Salad from Applebee's is all kinds of delicious! Crispy coated chicken tenders on a bed of crunchy salad greens, with a mouthwatering sesame mustard vinaigrette – so good, copy that! This is one amped up salad! Packed with fresh crisp veggies and crunchy chicken tenders, this Oriental Chicken Salad packed with flavor and lots of lovely goodies! Anointed with crispy chow mein noodles and sliced almonds, it's a hearty salad you could have for lunch or dinner.
Why you'll love this Oriental Chicken Salad:
All about the crunch! Crisp lettuce and cabbage provide the base for golden chicken tenders and crunchy noodles – every bite is pure heaven!
A hearty salad. Protein packed chicken, almonds, noodles and heaps of veggies mean this is a salad that's built to satisfy.
Restaurant quality salad at home. This is a delicious take on the super popular Applebee's creation and it's just as good (if not better!).
Ingredients:
FOR THE CHICKEN:
1 lb chicken tenders
1 ½ cups flour
1 tsp salt
2 tsp garlic powder
2 tsp onion powder
¼ tsp black pepper
2 eggs + 1 tbsp water
¼ cup canola oil
VINAIGRETTE:
¼ cup rice vinegar
1 tbsp sugar
2 tbsp sesame oil
2 tbsp canola oil
2 Dijon mustard
FOR THE SALAD:
2 cups cabbage mix with carrots
4 cups romaine lettuce
1 cup shredded red cabbage
¾ cup sliced almonds
1 cup crispy chow mein noodles