Pop Tart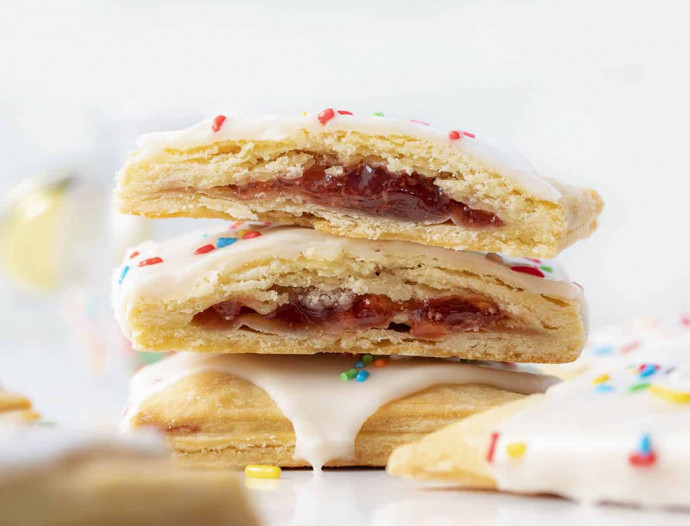 These Pop Tarts are the homemade version of the popular toaster pastries but made with a homemade pie crust filled with strawberry preserves and a homemade vanilla glaze with sprinkles on top.
There are four parts to this recipe: the crust, the strawberry filling, the vanilla glaze, and sprinkles!
Crust: To make these homemade pop-tarts, I started with my no-fail homemade pie crust. It makes two pie crusts, which is perfect for this recipe. If you buy pie crusts, you will need two 9-inch crusts that you will have to roll out into a rectangle shape.
Filling: I stuck with one of the original pop-tart flavors, strawberry. I used strawberry preserves as the filling, but you could also use strawberry jam or your favorite flavor of preserves.
Glaze: Homemade vanilla glaze was my choice for the 'frosting'.
Sprinkles: Adding the rainbow sprinkles really made these look like storebought pop-tarts! Of course, you can leave the sprinkles off if you don't have any hand, or just don't want to add them.
To freeze the pop tarts after they have been baked, let them cool completely before placing them in the freezer for a couple of hours. Once frozen, store in a labeled and dated freezer-safe container for up to three months.
Ingredients:
CRUST
No-Fail Pie Crust, or 2, 9-inch storebought pie crusts
FILLING
½ cup strawberry preserves, or jam, divided
VANILLA GLAZE
3 cups confectioners' sugar
¾ teaspoon vanilla extract
3-4 teaspoons water, or enough to reach desired consistency
TOPPING
rainbow sprinkles