Simple Cucumber Salad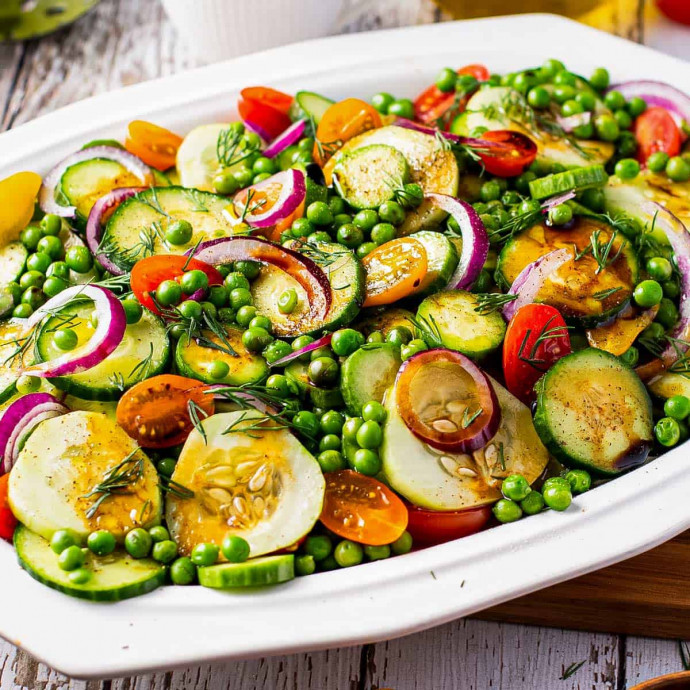 This easy mayo-free Cucumber Salad is complete with not only fresh cucumbers, but also sweet peas, crunchy red onion, tangy tomatoes, fresh herbs and a simple balsamic vinaigrette dressing. Perfect alongside a light summer meal or at a potluck!
When summer rolls around, the cookouts start. And let me just say, I'm here for it. I'm such a huge fan of cookout and potluck foods!
Most cookouts are outdoors, weather permitting of course, and with the heat, taking a creamy mayo-based dish can be a bit dicey.
With a mayo-based dish, you have 1-2 hours before it's unsafe to eat, and I just don't like to take that risk.
That's why I love this cucumber salad… it's mayo-free, and instead uses a balsamic reduction vinaigrette that is the perfect blend of sweet and savory!
Ingredients:
2 long English cucumbers thinly sliced
2-3 mini or Persian cucumbers thinly sliced
1/2 medium red onion thinly sliced into about 1" long pieces
1 cup frozen peas thawed
1 or 2 Tbsp fresh dill minced
1 cup cherry tomatoes halved or quartered if they're really large
1/3 cup balsamic vinegar reduction
1/3 cup extra virgin olive oil
3/4 tsp kosher salt
1/2 tsp black pepper