Vegan Mushroom Wild Rice Soup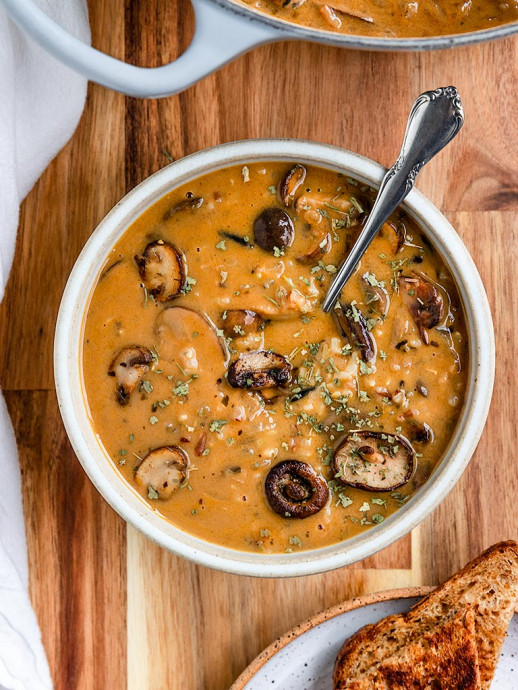 This Vegan Mushroom Wild Rice Soup is seriously SO creamy that you would never guess it is completely dairy-free & made with no cream! If you are on the hunt for a delicious vegan soup recipe that is actually filling, this hearty & gluten-free mushroom wild rice soup that can be made in one pot is here for you.This soup requires only one pot. That being said, there are some crucial steps to make this mushroom cream soup as flavorful as possible.
Also, this recipe is naturally gluten-free using wild rice as the grain in this soup. Plus, this vegan mushroom soup has only 8 ingredients! I don't know about you, but I Always down for a soup recipe with minimal ingredients and less trips to the grocery store. This Vegan Mushroom Wild Rice Soup is truly hearty, filling, and nutritious. I promise you won't be able to tell there is no dairy or cream in this recipe. Plus, it's probably when of my favorite soups when I am feeling under the weather. This soup will truly warm you up from the inside out!
Ingredients:
¾ cup wild rice blend
4 cups mushrooms, diced (I used a mix of white button, Crimini, & Shitake)
1 cup white onion, diced
2 cloves minced garlic (about 1 Tbsp)
2 Tbsp vegan butter (or oil)
1 tsp dried parsley
5-6 cups vegetable broth ( I start with 5 and add up to 6 for a slightly thinner soup)
14 oz can coconut milk
salt & pepper to taste