Chicken Burritos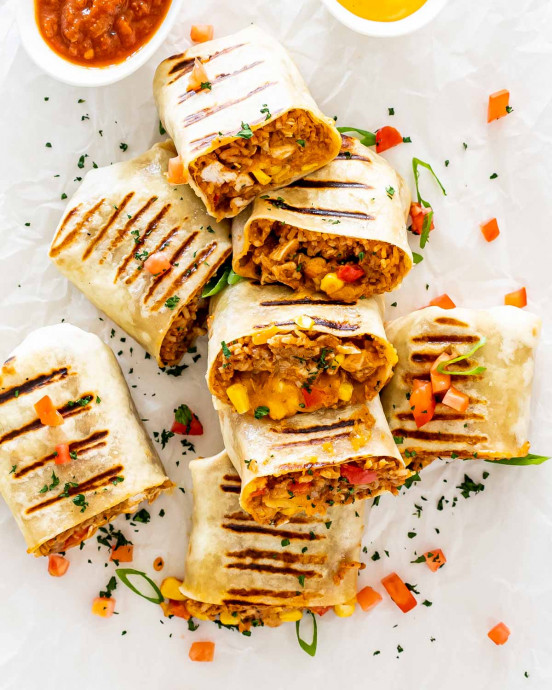 These easy 30 minute Chicken Burritos are stuffed with an incredibly delicious and perfectly seasoned chicken filling, Mexican rice, refried beans, corn and lots of cheese. If you have some leftovers, they're perfect for freezing so you can enjoy some later.
Take a look at these chicken burritos! Do they look good or what? They are absolutely delicious and so easy to make. I just think burritos are the the greatest thing ever invented because they're so versatile. The filling in these burritos is incredible. Perfectly seasoned chicken pieces, veggies, refried beans, corn, Mexican rice and lots and lots of cheese.
You can use chicken thighs or ground chicken/turkey for this recipe. Honestly, if you're not feeling chicken, use beef, pork or tofu! Keep in mind when using different protein or parts of the chicken, the cook times could vary.
Ingredients:
Chicken Filling
1 lb chicken breasts skinless and boneless, cut into small pieces.
½ salt
¼ tsp pepper
1 tsp chili powder
1 tsp cumin
1 tsp smoked paprika
1 tsp dried oregano
2 tbsp olive oil
1 small onion chopped
3 cloves garlic minced
1 medium red bell pepper chopped
1½ cups refried beans
¼ cup water
Burritos
8 large flour tortillas
2 cups Mexican rice
1 cup corn canned
2 cups cheddar cheese shredded
Serve with
salsa
sour cream
nacho cheese sauce