Sweet Corn Fritters with a Spicy Aioli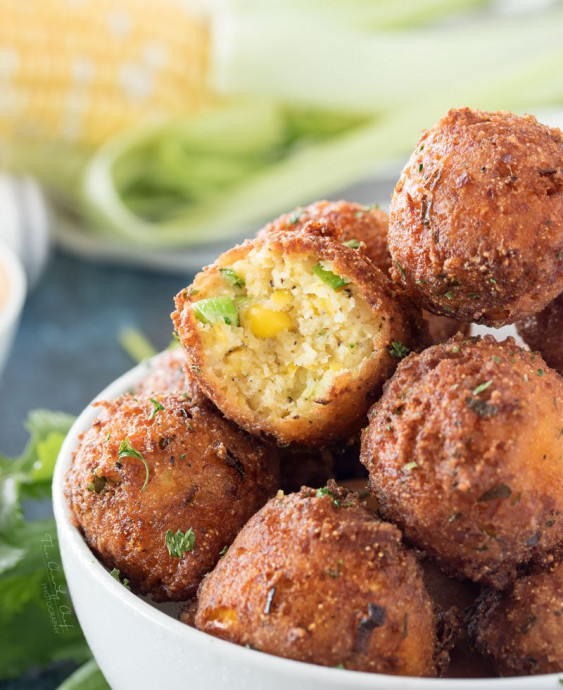 A perfect blend of sweet and savory, these fluffy fritters are packed with flavor, fried to crispy perfection, and served with a spicy honey sriracha aioli.
The ultimate appetizer! Sweet and savory corn fritters! Easy to make, fun to eat, and made even better with the tantalizing honey sriracha aioli to dip them in!
The prep process is pretty simple for these fritters. Put your corn kernels, milk and eggs in a food processor and pulse until smooth, but still textured. Pour the corn mixture into a large bowl and stir in your chopped scallions, cilantro, garlic and onion. In a separate smaller bowl combine your dry ingredients. Stir those into your corn mixture until well combined. Scoop out batter in golf-ball sized amounts and fry in hot oil about 5 minutes or so, then remove to a paper towel lined plate to drain.
I would suggest making the aioli ahead of time so it can hang out in the refrigerator and let all the flavors really meld together!
Ingredients:
8 ears of corn shucked and cooked
1/4 cup milk
2 eggs
1/4 cup scallions or green onions sliced
3/4 tsp garlic minced
2 Tbsp cilantro minced
1 small yellow onion very finely diced
1 cup flour
1/2 cup cornmeal
3/4 Tbsp salt
3/4 Tbsp sugar
1 1/8 Tbsp baking powder
1/2 tsp ground coriander
2 tsp ground black pepper
Oil for cooking
For the Aioli:
1 cup mayonnaise
1 Tbsp Sriracha sauce (more or less to taste)
2 Tbsp honey