Turkey Avocado Burgers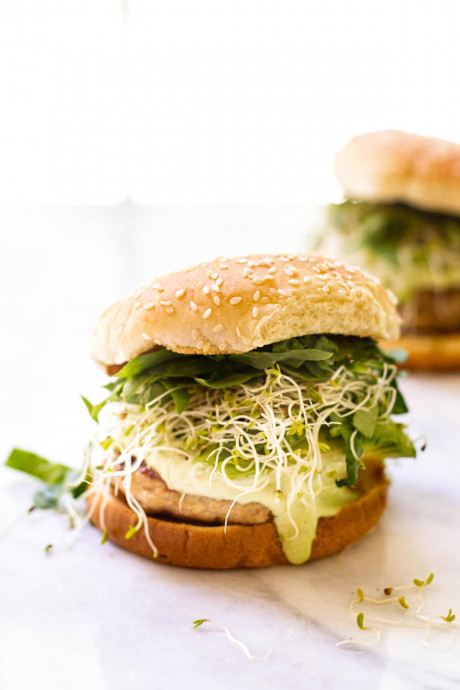 These healthy turkey avocado burgers topped with a creamy herb burger sauce and fresh greens. This is a great way to switch up burger night and an easy 30-minute dinner recipe.
Turkey burgers are not always my fave kind of burgers unless they happen to be these turkey avocado burgers, a recipe I first shared several years ago and continue to love because it's easy and delicious.
Topping the burgers with a bright burger sauce and creamy sliced avocado takes a plain jane turkey burger to a whole new place. And that place is yums. Schedule this burger recipe for a weeknight because it's ready in about 30 minutes.
It has a creamy basil burger sauce/dressing that is fresh and bright. But you know what? If you want to make this even faster to make use a good bottled green goddess dressing instead.
The burgers are topped with fresh spinach and alfalfa sprouts to round out the green theme we have going on. The toppings are open to swaps and switches – add some sliced red onion, switch the spinach for romaine, butter lettuce or other kind you like, or add some sliced tomatoes.
Ingredients:
FOR THE HERB DRESSING
1 cup plain non-fat Greek yogurt
1/4 cup mayonnaise
1/2 cup chopped scallions
1 tablespoon Worcestershire sauce
1/2 cup roughly chopped basil
Juice from one lemon
FOR THE TURKEY BURGERS
1 pound ground turkey
1 teaspoon salt
1/2 teaspoon pepper
1/2 tablespoon Worcestershire sauce
4 hamburger buns, toasted
FOR THE TOPPINGS
1 avocado, sliced
1 cup chopped fresh spinach
1 cup alfalfa sprouts