Moussaka - Greek Beef and Eggplant Lasagna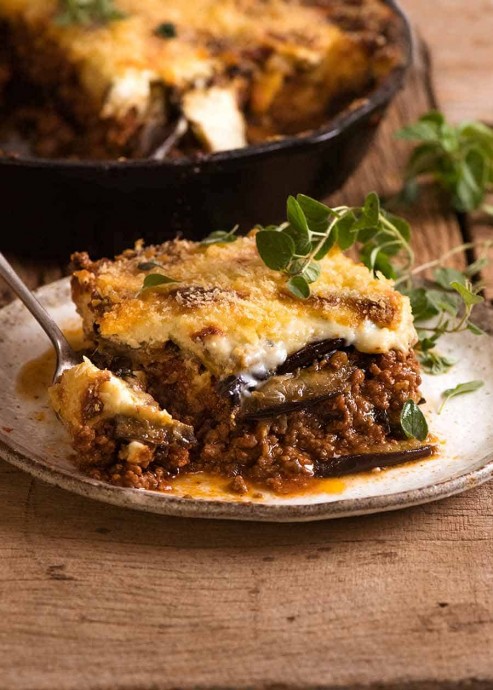 A traditional recipe for an iconic Greek dish! Moussaka is to the Greek what Lasagna is to Italians. A rich tomato meat sauce layered with eggplant instead of pasta sheets, and topped with a thick layer of béchamel sauce, this traditional Greek recipe takes time to assemble – but it's well worth the effort. This is serious comfort food – a low carb one!
Very delicious, because when you crack through that golden top and the white bechamel sauce bursts out, you scoop up a big piece and you see all the amazing layers, the soft eggplant melding together with that rich meat sauce! It's a little bit of food heaven, right there. Totally worth every single pot and pan.
Ingredients:
1 kg / 2 lb eggplant (aubergines) , 0.75cm / 0.3" thick slices
1 tsp salt
2 - 3 tbsp olive oil
1 tbsp olive oil
1 onion , diced (brown, white, yellow)
3 garlic cloves , minced
1.4 lb / 700 g ground beef or lamb (mince)
1/2 cup (125ml) red wine , dry (optional)
14 oz /400g crushed tomatoes
3 tbsp tomato paste
1 cup (250 ml) beef broth/stock
1 beef bouillon cube , crumbled (or 1 tsp powder)
2 bay leaves
1.5 tsp sugar (any)
2 tsp dried oregano
1/2 tsp cinnamon (or 1 stick, use whole)
3/4 tsp salt
4 tbsp butter
5 tbsp plain flour
2.5 cups (625 ml) milk (any fat %)
1/4 tsp nutmeg, freshly grated (optional)
1/2 cup (50g) parmesan cheese, grated (or Kefalotiri Cheese)
1 egg
1 egg yolk
1.25 tsp Vegeta, vegetable or chicken stock powder (or salt)
1/4 tsp pepper
1/3 cup panko breadcrumbs