Pear Salad with blue cheese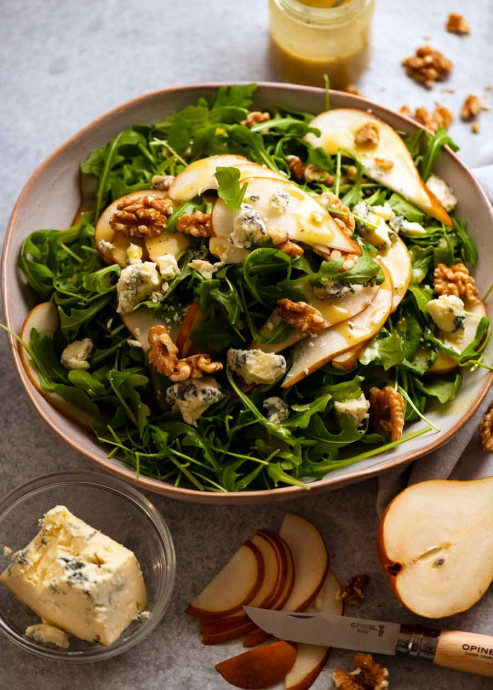 This Pear Salad is a stellar combination of flavours reminiscent of your favourite cheeseboard: juicy pear with piquant pops of blue cheese, toasty walnuts and a Honey Mustard Dressing. Peppery rocket (arugula) is an ideal refreshing contrast to use as the leafy base.
This is an excellent salad option for a starter, or as a stylish side salad! This is a salad that's all about classic and natural pairings, things we *always* see on cheeseboards. That's because they just work so well together, yet you may not have thought about combining them in a salad. Combos like: Fruit and blue cheese, Fruit and honey, Fruit and nuts, Cheese, honey and nuts. Oh, plus some leafy greens. This transforms our "cheese board" into a salad! It's a delicious way to use pears when they're in season for something other than dessert (such as this Pear Pistachio Tart or this Pear Blue Cheese Slice). It's also one that blue cheese lovers can get excited about!
Ingredients:
1 1/2 – 2 pears , any type, juicy and ripe (or nashi pears or sweet apples)
3/4 cup walnuts , whole (sub almonds, pecans)
120g / 4oz rocket/arugula lettuce
120g / 4 oz roquefort, gorgonzola, stilton or other good blue cheese, creamy but can be crumbled into chunks
1 1/2 tbsp Dijon mustard
1 1/2 tbsp honey
1 1/2 tbsp cider vinegar
1 1/2 tbsp vegetable or olive oil
1/4 tsp salt
1/8 tsp black pepper