Avocado Mac and Cheese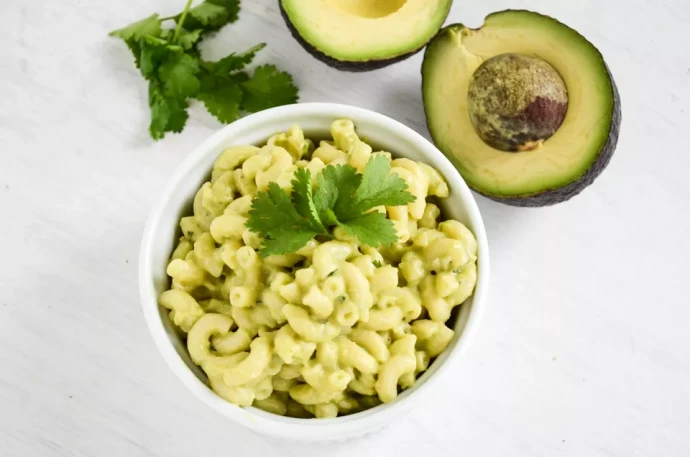 Before you ask the question: "Why put avocado in mac and cheese?" let us answer it for you. We wondered this same thing before setting out to make a pot. For a vegan spin on a comforting bowl of cheesy pasta, swapping in avocado would make sense, being dairy-free. A little nutritional yeast would add that umami, cheesy flavor to satisfy the craving in a vegan pinch. But, this isn't a vegan mac and cheese, and it certainly isn't your mama's mac and cheese recipe.
Still, this creamy avocado mac and cheese is a revelation. Plus, it's a mind-blowingly good mac and cheese; perfect for when you want that cheesy taste with a light finish that doesn't leave you feeling weighed down.
How does adding avocado lighten up an otherwise heavy-feeling comfort food? For starters, there's no milk in this creamy avocado mac and cheese recipe. Instead, you start by making a roux with some cream cheese, flour, and pasta cooking water reserved before draining the elbow macaroni. The cream cheese adds depth, and the water adds lightness. Once that's whisked into a sauce, in goes some cheddar cheese to melt, and then the sauce comes off the stove—the avocado isn't cooked into the sauce.
There's just enough white cheddar to add that cheesy kick you expect from a great mac and cheese, with the finishing touch of folding in avocado that's been mashed up with a little lemon juice to preserve the green color and prevent the avocado from turning brown and some cilantro. The lemon juice is barely noticeable on taste, but it adds a brightness to this classic side dish. The avocado flavor isn't overwhelming, and yet it's there, along with the creamy buttery feel it lends the pasta without tasting too rich. A lightened up, worthy version of a childhood favorite, indeed.
Ingredients:
1/2 pound elbow pasta
1 very ripe avocado, pitted
1 tablespoon freshly squeezed lemon juice
2 tablespoons cream cheese, softened
1 tablespoon all-purpose flour
4 ounces white cheddar cheese
1/4 cup fresh cilantro
Sea salt, to taste
Freshly ground black pepper, to taste