Salted Brownie Cookies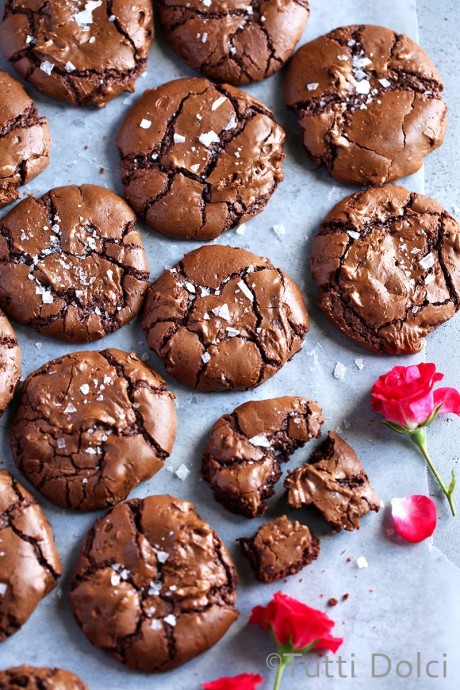 With shiny, crackled tops and rich, fudgy centers, these salted brownie cookies are the ultimate chocolate cookie for brownie and chocolate lovers! Baked until soft and chewy and sprinkled with flaky salt, these super indulgent cookies are delicious with coffee or even a scoop of vanilla bean ice cream (and the perfect way to get your chocolate fix!).
Incorporating just a handful of ingredients, this recipe is really all about the chocolate, so use the best quality chocolate you can (around 70% chocolate is a great place to start). There's no dough chilling here, but temperature and timing are key to successful cookies, so this method works best if you prep all the ingredients before you start. Bake the cookies until the tops are shiny and crackly, 12-14 minutes. Remove pans from the oven and sprinkle cookies with flaky salt. Let cookies cool on baking sheets for 10 minutes, then transfer to wire racks to cool completely. Enjoy!
Ingredients:
2/3 cup (94 g) flour
2 Tbsp (12 g) unsweetened cocoa powder, sifted
1 tsp (4 g) baking powder
1/4 tsp (1.5 g) salt
8 ounces (226 g) semisweet chocolate, finely chopped (recommended: 70% chocolate)
1/4 cup (57 g) unsalted butter, cubed
2 large eggs (100 g), at room temperature
1/2 cup (100 g) sugar
1/2 cup (92 g) light brown sugar
1 tsp (4 g) vanilla extract
1/2 cup (85 g) semisweet chocolate chips
flaky salt, for topping