Cheesecake Pots with Plum Compote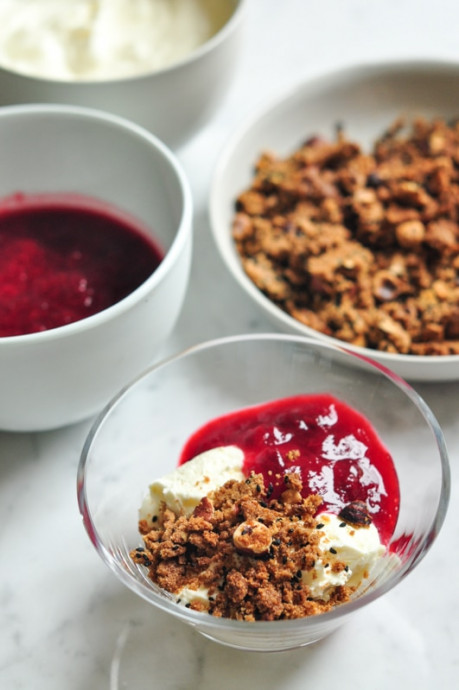 Divine Cheesecake Pots with Plum Compote, perfect for entertaining. Whilst the plum compote makes this dessert suitably autumnal, the star of this dish is the toasted crumble topping, comprised of crushed hazelnuts and black sesame seeds (also called Nigella seeds or kalonji), which lends the requisite crunch and nubbly texture to this dish.
This cheesecake is actually a deconstructed cheesecake, although a bit more upmarket than the Cheesecake Pots with Passionfruit & Raspberries which I have previously posted on this blog. I find Ottolenghi's version to be quite rich, so a little goes a long way. To this end, I prefer to serve a few small scoops of cheesecake mixture per bowl, and to let guests help themselves at the table to as much compote and crumble as they like.
Ingredients:
For the Cheesecake Pots
400 g cream cheese
200 g mascarpone cheese
100 g (1/2 cup) caster sugar
200 ml (3/4 cup plus 1 tablespoon) double cream (heavy cream)
zest of 1 lemon
For the Plum Compote
500 g (1 lb) plums, stoned and cut into small cubes
25 g (2 tablespoons) caster sugar
1 tablespoon lemon juice
For the Hazelnut Crumble
60 g (1/3 cup plus 1 tablespoon) wholemeal flour
30 g (3 tablespoons) light muscovado ssugar (or light brown sugar)
50 g (1/2 stick) unsalted butter, cold and cut into small cubes
50 g hazelnuts, lightly crushed
1–2 tablespoons black sesame seeds
sea salt