Calabaza En Tacha (Mexican Candied Pumpkin)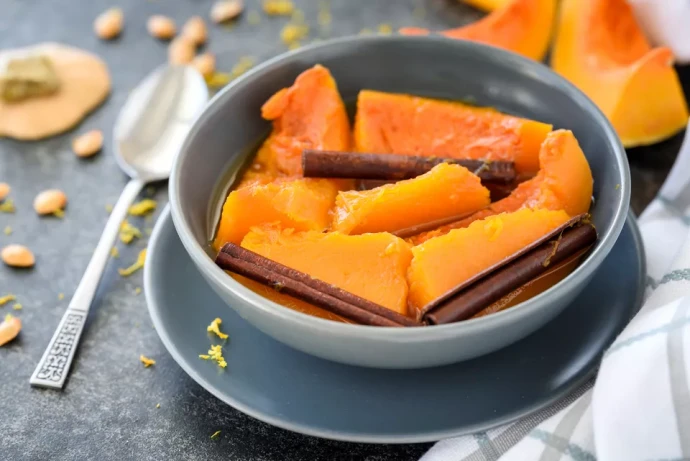 The flavors in this dish are similar to those in candied "yams" or sweet potatoes, but unlike that iconic American Thanksgiving dish, candied pumpkin is not generally served as a side dish. Calabaza en tacha is enjoyed in Mexico as a dessert, snack, or even as breakfast. It is also one of the most common foods placed on family altars for Day of the Dead holiday.
In Mexico, candied pumpkin is usually made with calabaza de Castilla, a rustic, lighter-colored squash with a tough rind, or with a similarly large, very dark green—nearly black—squash. Sometimes holes are drilled in the squash (to allow the steam out and the syrup in) and it is candied whole; at other times, the vegetable is cut into wedges or strips—rind still on—and prepared in large pieces. Feel free to use the bright orange Halloween pumpkin to make this, though, and to cut it into smaller pieces if that seems more manageable.
Regardless of the type of squash you use, don´t forget to keep the seeds of it to toast and make pepitas.
Ingredients:
1 (5-pound) pumpkin (or similar winter squash)
1 orange
2 pounds/900 grams piloncillo (or brown sugar)
4 cups/1 liter water
4 sticks cinnamon