Butternut Squash Black Rice Salad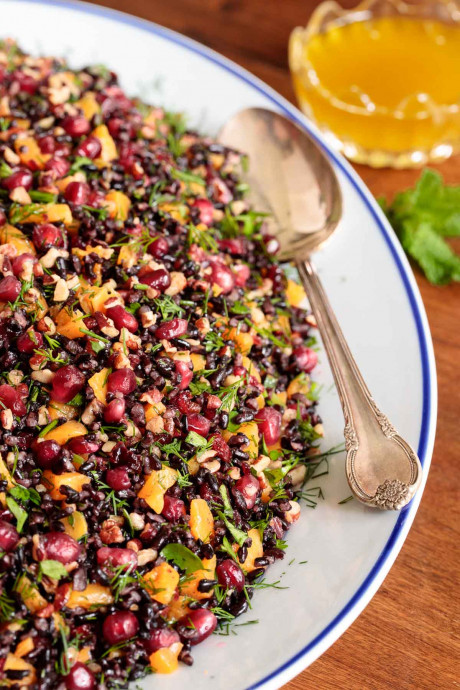 This fabulous Butternut Squash Black Rice Salad is healthy, fresh and bursting with bright flavor. A simple lemon-olive oil dressing ties it all together with pizazz!
This Butternut Squash Black Rice Salad has everything going for it! It can be made ahead, it's super healthy, amazingly delicious and a real beauty! A win, win, win, win! It's the base for this delicious Butternut Squash Black Rice Salad that includes slivers of tender butternut squash, chopped dried cranberries, toasted pecans, diced red onion and some herbs. There's also a simple lemon dressing and an optional (beautiful!) garnish of pomegranate. It's one of those dishes that's "more than the sum of its parts". All the ingredients, on their own, are great, but put them all together and the equation is transformed from ordinary to extraordinarily delicious! You may have noticed that the individual components of this salad are all chopped/diced fairly small (even the dried cranberries). This gives you a little of each in every bite, which creates a fabulous burst of flavor in your mouth.
Ingredients:
For the dressing:
½ cup extra virgin olive oil
2 tablespoons fresh lemon juice
1 teaspoon honey
½ teaspoon kosher salt
¼ teaspoon freshly ground black pepper
For the butternut squash:
1 tablespoon extra virgin olive oil
2 cups diced butternut squash
½ teaspoon kosher salt
¼ teaspoon freshly ground black pepper
For the pecans:
1 teaspoon butter
½ cup chopped pecans
⅛ teaspoon kosher salt
To finish the salad: