Roasted Carrot Salad with Honey Cider Poppy Seed Dressing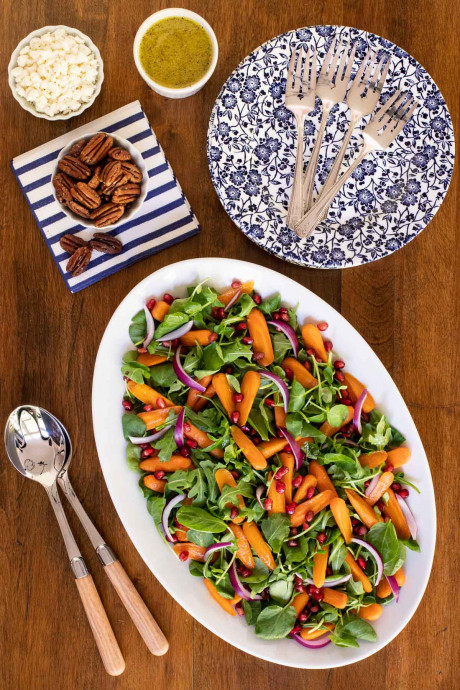 This delicious Roasted Carrot Salad with Honey Cider Dressing is a perfect (and gorgeous) side for just about any entree. It also makes a fabulous vegetarian meal on its own!
Tired of the same-old, same-old carrots? If you've never thought of adding roasted carrots to a green salad, you're missing out on something super delicious. We've been enjoying this Roasted Carrot Salad for the past week and I know it will be a frequent flyer on the menu this season here at The Café! Besides the vibrantly-hued roasted carrots, this salad features slivers of red onions, pomegranate, rosemary toasted pecans, creamy goat cheese and one of our favorite salad dressings of all time, Honey Cider Poppyseed Dressing.
I love the versatility of this Roasted Carrot Salad. It makes a fabulous lunch with some warm, crusty bread and a cup of delicious soup, but it's also a wonderful side for just about any entree and would be lovely for a dinner party. You can also top it with some sliced or shredded rotisserie chicken and you've got a beautiful and healthy whole meal salad.
Ingredients:
For the rosemary pecans:
1 teaspoon butter
½ cup pecan halves
1 teaspoon finely chopped fresh rosemary
¼ teaspoon kosher salt
For the roasted carrots:
1 pound carrots if using baby carrots, halve them on an angle, lengthwise. If using whole carrots, peel them then slice on a long angle.
2 tablespoons extra virgin olive oil
1 teaspoon kosher salt
⅛ teaspoon freshly ground black pepper
For the dressing:
Honey Cider Poppy Seed Dressing
For the salad:
4 ounces salad greens
½ medium red onion thinly sliced
¼ cup pomegranate arils or seeds
¼ cup crumbled goat cheese