Cheesy Broccoli & Chicken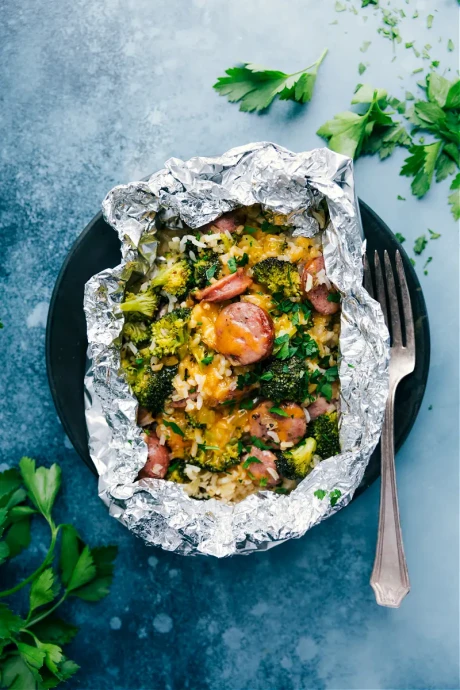 Ridiculously quick prep time makes these Foil pack Cheesy Broccoli & Chicken dinners perfect for campfire cooking! We're combining smoked chicken sausage, uncooked rice, and broccoli in one foil packet and letting the coals do all the work! Don't have a camping trip scheduled but still want to try this recipe? We've also tested it on the grill and in the oven!
The seasoning line-up is simple, but packs a punch of flavor! Chicken bouillon, garlic powder, onion powder, Italian seasoning, salt, and pepper is all you'll need. Don't leave out the chicken bouillon; it adds a lot. Olive oil. Not only does the oil add flavor, but it's also great insurance against burnt veggies. Cheddar cheese. I recommend sharp or extra-sharp Cheddar cheese; both have a much more robust flavor than regular Cheddar — they've been aged longer.
Ingredients:
1 cup (102g) Instant (Minute) Rice
1 cup (232g) chicken stock or broth (water works in a pinch)
1 package (13 oz) smoked sausage Italian chicken
3 cups (193g) chopped broccoli (~2-3 florets)
3/4 cup (102g) finely diced yellow onion (~1/2 large onion)
5 tablespoons (66g) extra virgin olive oil
1/2 teaspoon EACH: garlic powder, onion powder, fine sea salt, pepper
2 teaspoons chicken bouillon powder
1 teaspoon Italian seasoning
1 cup (3 oz.; 85g) freshly grated extra-sharp or sharp Cheddar cheese
Optional: fresh parsley