15-minute Cashew Zucchini Noodles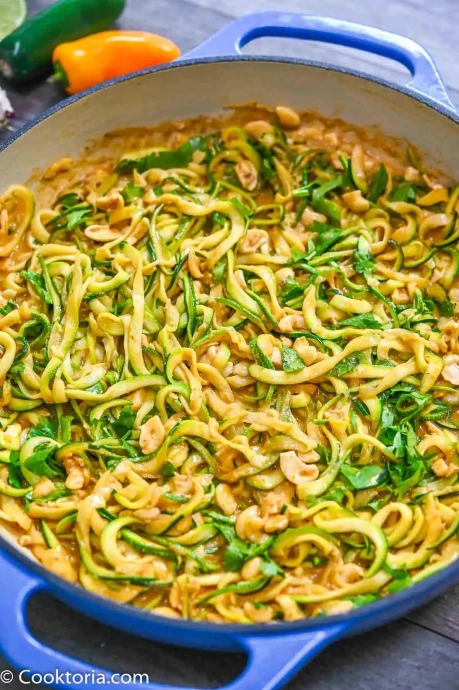 These 15-minute Cashew Zucchini Noodles are so flavorful! Cooking in a sauce that's a complex mix of salty, nutty, and umami, with just a touch of heat, it's utterly addictive.
This recipe for Quick Cashew Zucchini Noodles is going to wow you, I promise. Made with spiralized zucchini as a healthy alternative to pasta, these delicate "zoodles" are cooked in a cashew peanut sauce that's rich and creamy. The additions of Asian flavors from the hoisin and soy sauce, as well as the sesame oil, just takes this dish to another level. With a little heat, it's dynamite!
I love these Cashew Zucchini Noodles because they are quick and easy. You can serve them up in 15 minutes, which is a big deal on busy nights when you haven't got much time. You can tweak the heat in this recipe for younger palates and also peel the zucchini so the kids don't know their noodles are actually a healthy vegetable. This dish is so flavorful, yummy, and convenient, it's sure to become a favorite. These 15-minute Cashew Zucchini Noodles are a simple and tasty recipe that can be served on its own or with other dishes. It's filling and incredibly flavorful, sure to be something you and your family enjoy again and again.
Ingredients:
4 medium zucchini, spiralized (about 2 lbs.)
½ cup raw cashews
2 tsp. sesame oil
½ cup chopped cilantro
For the Sauce
2 tbsp. peanut butter
1 tbsp. Hoisin sauce
½ tbsp. Sriracha sauce or to taste
3 tbsp. soy sauce
½ lime, juiced
1 tsp. minced garlic
1 tsp. minced ginger