Mushroom Chicken Bites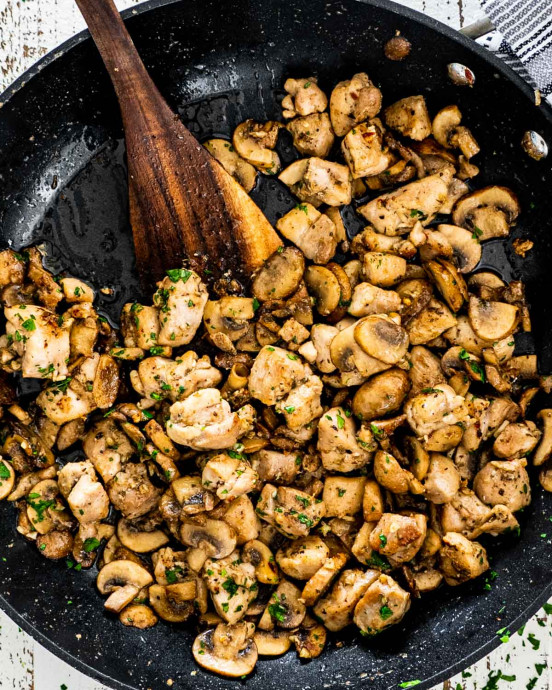 These Mushroom Chicken Bites are a wonderful, low carb, flavorful dish that will delight anyone who especially has a love of mushrooms. The chicken thigh pieces are so tender and juicy, coupled with the rich taste of the cremini mushrooms that absorb all the fantastic seasonings in this recipe. This is an incredibly quick dinner you can get ready in just 25 minutes.
I guarantee you will not be disappointed if you try this recipe. It really is quick and easy, especially for a weeknight family dinner. Although you can use other cuts of chicken, I like the chicken thighs as they are more tender and flavorful. Creamy mashed potatoes or rice pair beautifully with these chicken bites. I'm all about whipping up quick dinners during the week, and this one ticks all the boxes, it's ready in just 25 minutes. All the seasonings and garlicky butter really elevate the depth and taste of this, oh so easy meal. One of the best things about this, is it's one of those one pot meals where everything gets cooked in one pan, meaning no big mess in the kitchen. Now that's a big bonus!
Ingredients:
2 tablespoons olive oil
1 pound chicken thighs boneless and skinless, cut in 1-inch pieces
1 teaspoon Italian Seasoning
¼ teaspoon salt or to taste
¼ teaspoon pepper or to taste
¼ teaspoon red pepper flakes
4 tablespoons butter unsalted, divided
8 ounces cremini mushrooms sliced
½ teaspoon onion powder
½ teaspoon garlic powder
2 cloves garlic minced
2 tablespoons fresh parsley chopped