Peach Muffins with Crumb Topping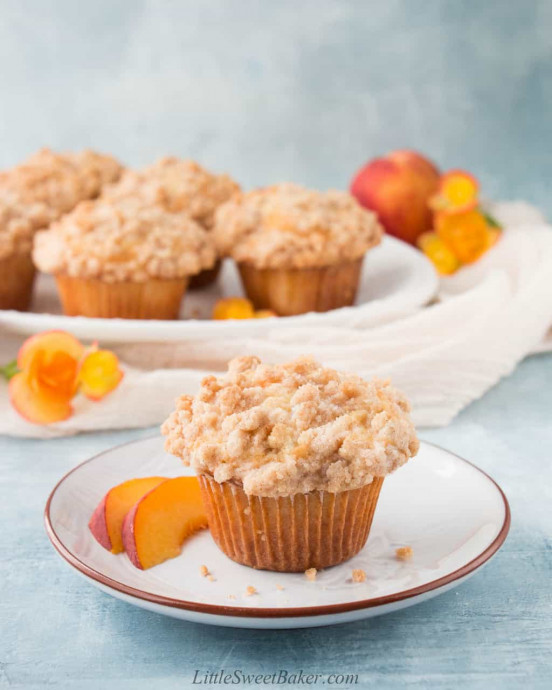 These large bakery-style peach muffins are soft and moist, loaded with chunks of juicy peaches, and crowned with the most delicious crispy crumb topping. It's like crumb cake meets peach muffins in one delicious and easy-to-make recipe!
Why this recipe is so great: Easy to make – This recipe is completely made by hand. There is no mixer required. All you need is a few bowls, a whisk, and a spatula. There are no fancy ingredients. If you have fresh, frozen, or canned peaches on hand, you can whip up these muffins in a matter of minutes. Perfect texture – The muffins are moist, fluffy, and tender. The crispy crumb topping adds a perfect contrast to the softness of the muffins. Tastes amazing – The taste is rich and buttery with a subtle scent of vanilla and a flavor explosion of peaches. The topping is sweet with a warm hint of cinnamon spice.
Ingredients:
Crumb topping
1/2 cup (65g) all-purpose flour
1/2 cup (100g) granulated sugar
1/2 tsp ground cinnamon
4 tbsp (60ml) unsalted butter, melted
Muffin batter
2 1/2 cups (315g) all-purpose flour
1 tbsp baking powder
1/2 tsp salt
1/2 cup (125ml) vegetable oil
1 cup (200g) granulated sugar
2 large eggs
3/4 cup (188ml)milk
2 tsp vanilla extract
1 heaping cup diced peaches (about 2 medium peaches)