Corn Chowder Pot Pie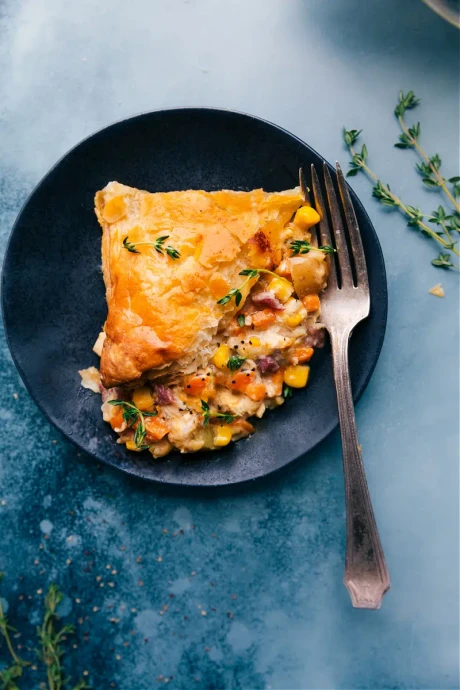 This Corn Chowder Pot Pie channels all the best parts of Chicken Corn Chowder into an ultra-comforting and delicious pot pie! Sweet corn, crisp bacon, and tender chicken in a cheesy sauce all packaged under flaky puff pastry dough — what more could you want for a comfort-meal-type dinner?!
Nothing screams comfort food like thick and hearty chowder or chicken-loaded pot pie. So for the ultimate comfort food why not combine the two?! Yes, we went there and you may never want to try one without the other again!
This pot pie is deeply savory with a hint of sweetness from the corn and carrots. It's got bacon and chicken, plus cheese — yum! And while it may all sound like a lot, you'll be amazed how quickly it comes together, thanks to some kitchen shortcuts we're relying on. Once baked, Corn Chowder Pot Pie is best enjoyed promptly. Leftovers store okay, but the puff pastry will lose texture and soften. Cover leftovers and keep them in the fridge for 3-4 days. Reheat in the oven at 350 degrees F, covered with foil for about 20-25 minutes.
Ingredients:
3 slices thick-sliced bacon
1 cup (180g) diced yellow onion
1 cup diced carrots
1 cup diced Yukon Gold potatoes unpeeled (unless using a different variety)
2 cloves garlic, minced
2 tablespoons unsalted butter
2 tablespoons white flour
1-3/4 cups (425g) whole milk
1 teaspoon each: chicken bouillon powder, dried thyme
1 cup (140g) frozen corn
1/2 cup (37g) Parmesan cheese freshly grated
1-1/2 cups (180g) chopped rotisserie chicken
1 cup (85g) freshly grated sharp Cheddar cheese, divided
1 sheet puff pastry dough
1 large egg
Optional: fresh thyme, fine sea salt & pepper