Maple-Caramel Pecan Sticky Buns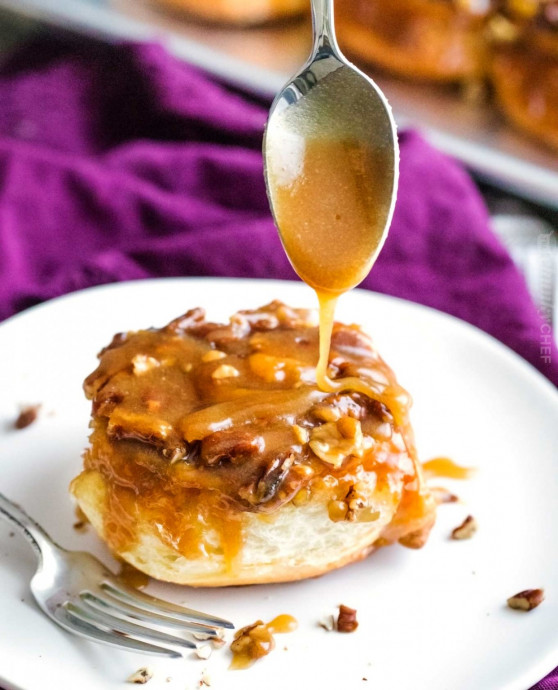 Deliciously tender, sweet and sticky, these sticky buns are made with a homemade maple-caramel sauce that is out of this world!
Is there anything better than sinking your teeth into a warm, gooey cinnamon roll? YES! Sinking your teeth into a warm, gooey, sticky bun!! Sticky buns are like cinnamon rolls more delicious cousin… full of buttery cinnamon sugar, but topped with homemade maple caramel and toasted pecans!
I've been wanting to share a recipe like this with you guys for a while now… but I kept putting it off because I was trying to figure out how to get these made fresh, then still have time to photograph them during my prime shooting time. Well I finally figured it out and whoa.. let me tell you… they're Amazing!!
Ingredients:
DOUGH
1 cup whole milk
2/3 cup granulated sugar
1 1/2 Tbsp active dry or instant yeast (about 2 standard packets)
1/2 cup butter, softened to room temperature and cut into bite sized pieces
2 large eggs
1/2 tsp kosher salt
4 1/2 cups all-purpose flour
TOPPING
1/2 cup butter
1 cup packed light brown sugar
1 tsp vanilla extract
1/4 cup maple syrup (the real stuff!)
3 Tbsp heavy cream
1 1/2 cups chopped pecans (I like a mixture of chopped and pieces)
FILLING
1/3 - 1/2 cup butter, softened to room temperature
1/2 cup light brown sugar
1 1/2 tsp ground cinnamon