Bacon Green Bean Casserole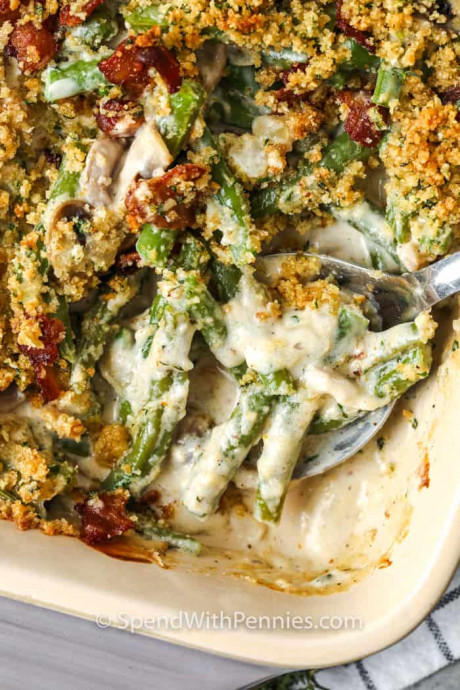 Nothing says comfort food like a bacon green bean casserole made from scratch!
Rich, creamy, savory, and oh, so delicious, a green bean casserole is a classic holiday meal for sure!
This version has the same flavors with green beans and onions but is leveled up with a rich flavorful cream sauce replacing the mushroom soup and a little bit of bacon. For Green Bean Casserole you need very simple ingredients! Green beans Fresh is best but frozen works too! Onions & Mushrooms are pan-fried and added to the sauce for lots of flavor. Bacon use regular uncooked bacon, you need the little bit of fat to cook the onions and mushrooms. Cream Sauce A simple yet decadent sauce is made with light cream, chicken broth, and seasonings. Toppings include a buttery, cheesy, bacon topping… need I say more?
Ingredients:
1 ¼ pound green beans trimmed and cut into bite sized pieces
½ teaspoon baking soda
¼ cup seasoned bread crumbs
2 tablespoons butter melted
2 tablespoons parmesan cheese shredded
½ tablespoon fresh parsley
2 slices bacon uncooked, chopped
2 tablespoons butter
½ small onion finely diced
8 ounces mushrooms
2 cloves garlic minced
¼ teaspoon pepper
⅛ teaspoon salt
¼ teaspoon poultry seasoning
3 sprigs fresh thyme or ¼ teaspoon dried thyme
2 ½ tablespoons flour
1 cup light cream
¾ cup chicken broth reduced sodium
¼ cup parmesan cheese shredded