Creamy White Bean and Spinach Quesadillas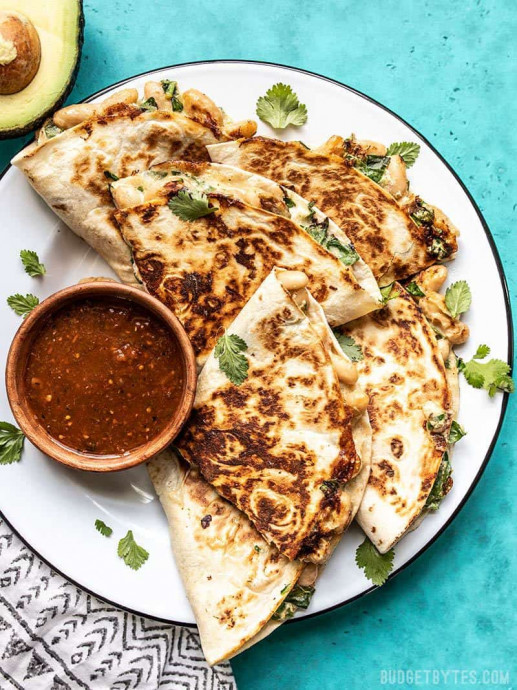 This is like, "the week of quesadillas" at my house. LOL. When the concept for these super easy creamy quesadillas first came into my head I couldn't decide whether to make them with chicken or do a vegetarian version, so I just made both! While I love both versions of this quesadilla, the incredible ease and low cost of these Creamy White Bean and Spinach Quesadillas might make them the winner. They literally only take about 20 minutes and are so freaking good.
Because the filling for these quesadillas is so rich and creamy, they really benefit from being served with a nice tangy salsa. The salsa I used is a smoky chipotle red salsa, which paired so well with the flavors of the quesadillas. Normally quesadillas would be served with some sour cream or guacamole dolloped on top, but there is so much creaminess already that I think that would be overkill.
I definitely suggest using cannellini beans for this recipe because of their large size, firm texture, and ability to hold their shape. Other white beans, like navy beans, tend to break down and are better suited for use in soups, stews, or recipes where they'll be mashed.
Ingredients:
1 15oz. can cannellini beans
3/4 tsp chili powder
1/4 tsp ground cumin
1/8 tsp garlic powder
1/8 tsp salt
2 cups fresh spinach
4 oz. pepper jack cheese, shredded
1/2 cup sour cream
4 8-inch flour tortillas