Olive Garden Salad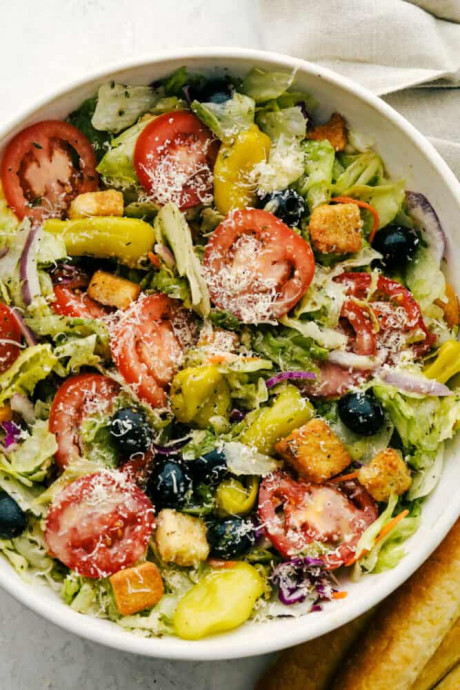 Olive Garden Salad is one of my all time favorite restaurant salads ever! And now you can have this bright zingy incredible salad at home!
Olive Garden has a cult following for good reason. They serve hearty soul satisfying pasta dishes and soups that are absolutely delicious. Everyone loves those breadsticks with the buttery, salty, garlic flavor. And then there is the salad. It is crisp, fresh and so addictive. The combinations of flavors when you really look at it is a bit odd, but it works! It is crunchy, soft, salty, tangy and even has a bit of heat. It comes together with that incredible dressing, and I could eat it every day! The colors of the salad are so vibrant and inviting. It is so good!
I love that I have been able to duplicate it here at home and it tastes every bit as good as it does from the restaurant. I dare say even better too. It is so simple to make, that you will be making this every week. This is a go-to salad when I'm hosting friends or family because I know everyone is going to love this salad. Olive Garden salad is ideal for lunches, brunches and makes a fabulous side to any dish. It is a classic favorite that takes little effort. Now if I could just remember to chill my salad plates as they do at Olive Garden, that would make it perfect!
Ingredients:
1 24 ounce bag Garden Salad Mix
3 medium sized tomatoes sliced
1 cup pepperoncini
1 small red onion sliced
1 cup large black olives
1 cup croutons
1/2 cup shredded Parmesan Cheese
Olive Garden Salad Dressing Recipe