"Dump & Bake" Fried Rice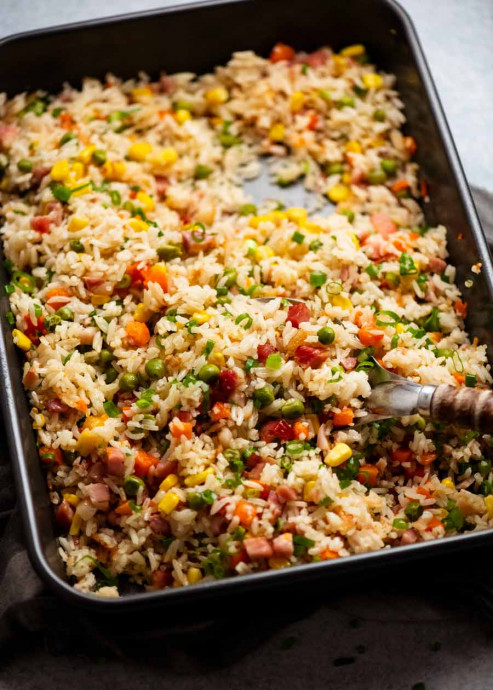 To make baked fried rice, just place uncooked rice, stock, soy sauce and a few other flavourings in a baking pan, give it a mix then shove it in the oven. Out comes fluffy, seasoned fried rice that's so good, you may never wok-toss fried rice ever again!
It's a baked rice. But I call it a baked fried rice because it's everything we love about fried rice, without the frying! It will save you on all those nights when you're scrambling for a quick side dish that will go with almost everything and please everyone.
Unlike the normal way fried rice is cooked, there's no need to plan ahead and cook rice the day before so that it has time to dry out overnight in the fridge. You don't even need to chop anything (hello, frozen veg!). Just dump everything in the pan – uncooked rice, stock, frozen pre-chopped vegetables, raw bacon – then whack it in the oven. There's no need to stir while cooking – in fact, I forbid it, because it makes the rice mushy!
And for all that effort, you will be rewarded with a big pan of fluffy seasoned fried rice that's littered with vegetables and oh wow, even the bacon is nice and golden!
Ingredients:
1 1/2 cups long grain white rice
2 cups chicken or veg stock , low sodium
1 1/2 tbsp light soy sauce
1 tbsp Chinese cooking wine (dry sherry, mirin or sake)
2 garlic cloves , minced with crusher (straight into pan)
2 cups frozen diced veg (carrots, peas, corn mix, fresh veg)
1/4 tsp white pepper
1 1/4 cups / 180g bacon (uncooked) or ham , chopped
1 tbsp sesame oil
1/2 cup green onion , finely sliced (2 – 3 stems)