Split Pea Soup with Ham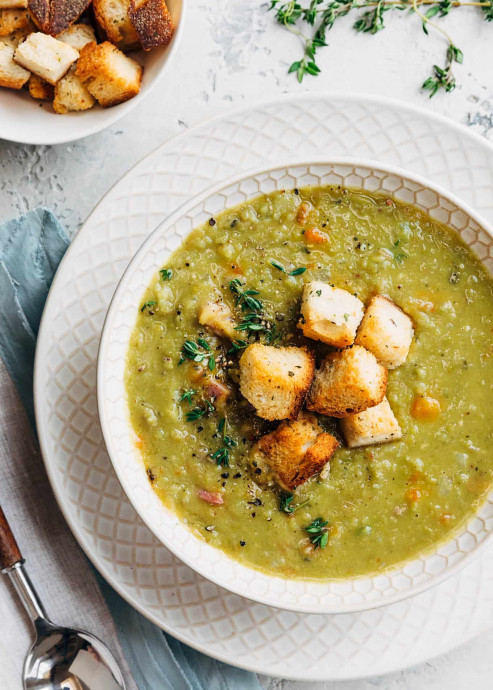 Split Pea Soup with Ham is a hearty and comforting soup that's perfect for making with leftover ham (and a ham bone) from a holiday dinner. Simmered with aromatics until thick and hearty, my family's recipe for Split Pea Soup makes a comforting bowl that's a little bit smoky, a little bit sweet, and completely satisfying. Split peas are field peas that are dried, peeled, and split in half for cooking. They come in both yellow and green varieties. Yellow split peas tend to be the mildest in flavor, and green split peas, sweeter. You'll often see the yellow peas used in curries.
Split peas have great nutritional benefits. They're low in fat, packed with fiber and protein, and are a good source of several vitamins and minerals, including Vitamins A, B, and magnesium.
Simmered with plenty of stock in a soup, they'll cook down and thicken into a textured puree (without having to use an immersion blender). Since split peas are mild in flavor, soup made with them can be a little muted. The ham does a lot to rectify that, but a base of aromatics, fresh herbs, and well-flavored stock are equally essential.
Ingredients:
1/4 cup unsalted butter
2 cups chopped onion
1 cup diced carrot (1/4-inch dice)
1 cup diced celery (1/4-inch dice)
1/4 to 1 teaspoon kosher salt , to taste
1/2 teaspoon freshly-ground black pepper , plus additional to taste
2 cloves garlic , minced
1 pound dried split peas , rinsed and sorted
1 meaty ham bone
1 large bay leaf (or 2 small)
2 teaspoons fresh thyme leaves , chopped and quantity divided
6 cups chicken stock
2 cups water
1 cup diced ham (1/4-inch dice)
Buttery Garlic Croutons , for serving