Spanish Brown Rice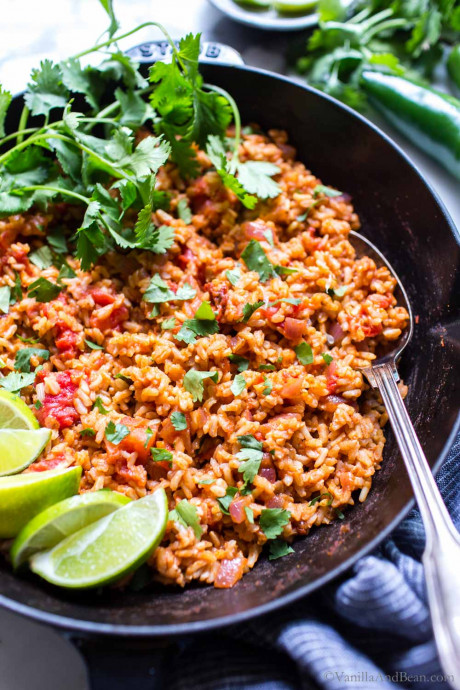 Flavor packed and make ahead easy for those busy week nights; Spanish Brown Rice (aka Mexican Brown Rice) for a good mouth party! This Mexican seasoned rice recipe is vegetarian, vegan and easily gluten free. Spanish rice, also known as Mexican rice, has been a staple in my kitchen for so long, I can hardly recall when the creation of this recipe started. It's a recipe that's taken on many forms through the years.
But then after getting married and hardly knowing a thing about how to make Mexican rice, I often yielded to pre-packaged or canned Spanish rice. After-all, I wasn't wise enough to ask my Ma for her Mexican seasoned rice recipe.
Similar to fried rice, cooking and chilling the brown rice prior to adding the Mexican spices and veggies produces grains of rice that don't stick together. Fluffy, not sticky and texture rich Spanish brown rice? Yes please!
Ingredients:
1 Tbs Cooking Oil I like coconut or olive oil
1/2 C (110g) Purple Onion small dice
2 tsp Adobo Sauce** from a can of chipotle chili peppers or 1 tsp of minced pickled jalapeños, adjust to taste - look for gluten free if needed.
1 tsp Cumin ground
1 tsp Chili Powder ground
1/4 tsp Smoky Paprika
1/2 tsp Garlic Salt
1/2 tsp Sea Salt
2/3 C (200g) Fire Roasted Tomatoes one can, diced, freeze the leftovers
1 Tbs Tomato Paste
2 1/2 C (350g) Cooked and Chilled Long Grain Brown Rice* see note for cooking instructions if needed
Additional Limes
Cilantro
Salsa
Jalapeños