Brussels Sprouts Salad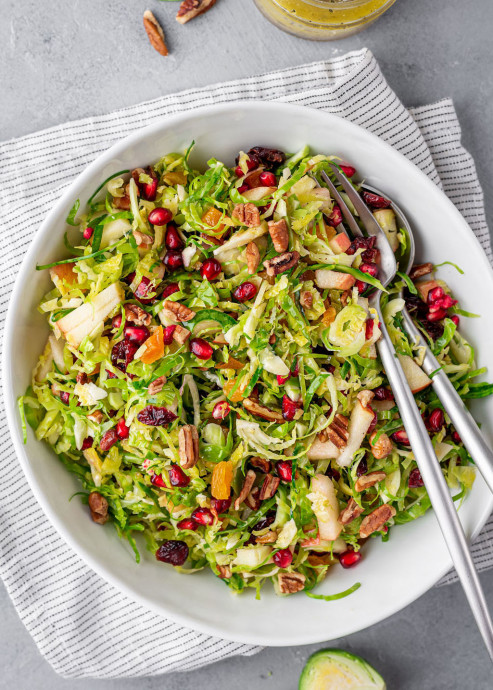 Make a fresh and healthy salad to eat on the side of some of your favorite entrees. This Brussels Sprouts Salad recipe is good for you, and it is a great way to get your children to eat healthier.
When you are sick of eating all the same vegetables prepared the same way all the time, you need to try this Brussels Sprouts Salad. It is a light and refreshing side that goes well with fish, red meat, chicken, and even turkey. You can eat it as a side dish, but it also works perfectly as a light lunch when you want to have a meal full of nutrients and vitamins that is not too heavy on the stomach. It is an excellent dish to bring to holiday dinners, too. You will need several simple ingredients to make the Brussels Sprouts Salad. The following ingredients are must-haves:
Brussels Sprouts. Without the brussels sprouts, you would not have this tasty salad. Make sure you have half a pound of them ready to use in this salad. You can add more brussels sprouts if you need to make a larger batch of this salad. Olive Oil. You will use the olive oil as a marinade for the brussels sprouts. Chopped Apple. Putting the chopped apple in the salad gives it a light and refreshingly sweet crunch. Chopped Pecans. The chopped pecans offer a great crunch in this salad and taste well with the brussels sprouts. Dried Cranberries. Sweeten your salad a bit more by adding some dried cranberries to it. The chewy texture and sweet taste of the dried cranberries are delightful. Besides these ingredients, make sure you have chopped apricots, salt, garlic cloves, pomegranate arils, and lemon juice.
Ingredients:
1 pound Brussels sprouts
1 tsp olive oil
¼ tsp salt
1 apple chopped
½ cup pomegranate arils
½ cup pecan chopped
⅓ cup apricots chopped
⅓ cup dried cranberries
For lemon thyme dressing
¼ cup extra virgin olive oil
2 tbsp lemon juice
1 clove garlic
¼ tsp dried thyme
½ tsp ground pepper
salt to taste