Baked Chicken Legs (Drumsticks)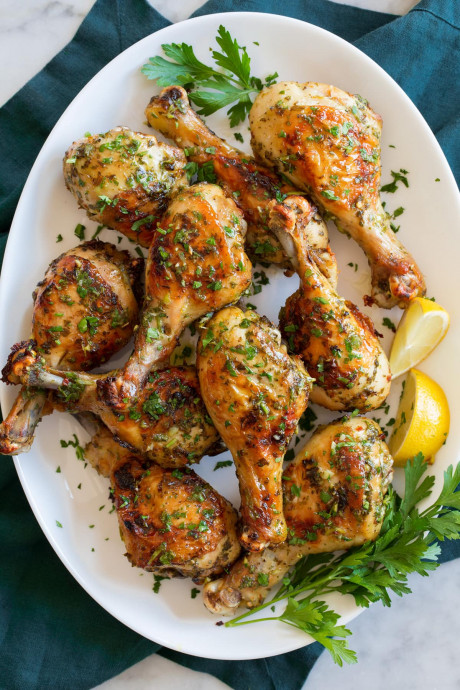 Easy and flavorful oven Baked Chicken Legs! In this recipe the drumstick portion of the leg is marinated in a chimichurri style sauce then roasted on a sheet pan in a hot oven until beautifully browned and perfectly cooked. It's a simple dish perfect for any day of the week.I set out to make the perfect baked chicken legs and after many batches settled upon what I found to be the best suited marinade and baking method. While the others were good, things like a simple seasoning left us craving more bright flavor, and a sweet and sticky asian marinade baked in a baking dish left us wanting more browned flavor and crispy skin.
Chicken, lemon, garlic and fresh herbs are always a combination you can't go wrong with and this recipe is proof. Simple fresh flavors are usually the best flavor enhancers.
And of course you'll appreciate how easy this is! Just blitz together a quick sauce in the food processor, marinate the chicken legs in it, then bake in the oven on a baking sheet until cooked through. So easy right?
With this recipe you have the option to serve them right from the oven with crispy skin, or at the end baste with the final 1/4 cup reserved sauce. It's a hard choice for me personally, that's why I'll leave it up to you.
Who can resist that crispy chicken skin, but you may also love the extra flavor of that herb sauce (it's just that the oils and liquids in it will quickly soften that crispy skin). So you may just opt to serve the remaining chimichurri sauce tossed with a vegetable side dish instead (potatoes or corn are a great option).
Either way you are going to LOVE this chicken!
Ingredients:
1 cup (slightly packed) fresh parsley leaves (about 1 fairly large bunch)
4 green onions, root ends trimmed, cut into thirds
2 tsp dried oregano
3 garlic cloves, peeled and smashed
1/2 cup olive oil
2 Tbsp red wine vinegar
2 Tbsp fresh lemon juice
1/2 tsp red pepper flakes (adjust to desired heat level)
1 1/2 tsp salt (plus a few pinches), or season as desired
1/2 tsp freshly ground black pepper
10 large (3.5 lb to 4 lb) chicken drumsticks (bone-in skin-on)