Rustic Ribollita (Tuscan White Bean Soup)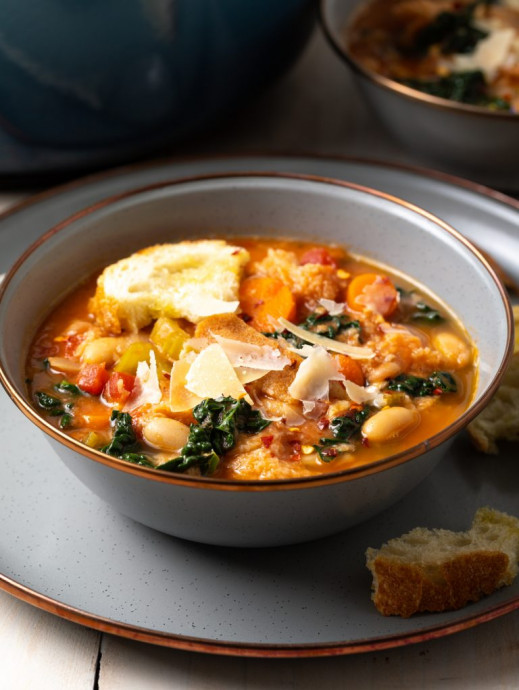 This classic Ribollita recipe makes the most wonderfully comforting, delicious Tuscan White Bean Soup. It's a thick, rich soup that includes day-old bread, tomatoes, beans, and kale for a hearty and satisfying dish.
Sure, you're used to soup being served with bread on the side. But have you yet discovered the magic of bread soup recipes?
That's right… Bread in the soup.
We fell in love with "bread soups" on a trip to Italy several years ago. The most common varieties are Pappa Al Pomodoro, a chunky tomato soup thickened with day-old bread, and Ribollita, a vegetarian white bean and vegetable soup thickened with chopped Italian bread. This Ribollita recipe includes a terrific combination of carrots, tomatoes, tender white beans and kale, plus chunks of day-old bread.
Adding the bread not only thickens the soup, but it is also (was) a way to use up leftovers to avoid waste and stretch the meal to fill more bellies. Plus, it also gives the soup flavor a comforting undertone and makes the texture almost like a deliciously rich porridge.
You can easily tweak Tuscan White Bean Soup to make a vegetarian or vegan version, and it can even be prepared gluten-free. It's ready in about an hour, so this soup is perfect for a relaxing weekend dinner that is sure to please everyone at the table!
Ingredients:
4 tablespoon olive oil divided
8 ounces Ciabatta bread or rustic Italian bread
1 large sweet onion peeled and chopped
3-4 carrots peeled and sliced
3 celery stalks chopped
8-10 cloves garlic minced
64 ounces vegetable broth
28 ounce San Marzano Tomatoes crushed or diced
30 ounces cannellini beans 2 cans, drained
½ cup shaved parmesan cheese + extra for serving
1 ½ teaspoon anchovy paste *optional for vegetarian
1 teaspoon dried oregano
1 bay leaf
½ teaspoon crushed red pepper
1 bunch Tuscan kale roughly chopped
Salt and pepper