Sliced Potato Cake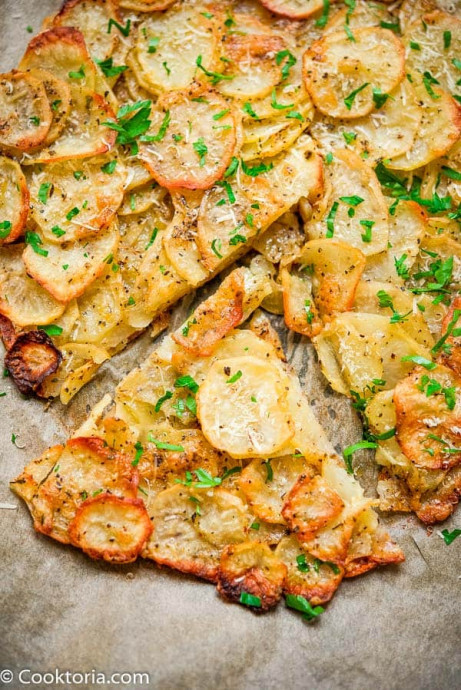 Sliced Potato Cake – A beautiful and unique way to enjoy potatoes. Serve in wedges, or put the whole cake on the table for everyone to cut into. These thinly-sliced potatoes seasoned with Italian herbs and Parmesan are golden and crispy on top, and soft on the inside. This simple Sliced Potato Cake is full of flavor, filling, and easy to make.
My toddler loves this dish! He calls it "Potato Chips." The top layer does taste somewhat like potato chips. He loves picking up the potato circles one by one, and I just sit back and enjoy watching him eat. I think your kid would love this Potato Cake, too.
Helpful Tips and Tricks: Use Mandoline. This will help to make sure your potatoes are the same thickness. Of course, you can slice the potatoes with a knife. Just make sure you slice them as thin as possible. Use Parchment Paper. Your potato cake will never stick to parchment paper. I prefer the unbleached kind. Adjust the Seasonings. Use more or less salt depending on personal preference. Also if you have fresh herbs in your garden, such as thyme or rosemary, you can use them instead of the dried Italian herbs. Arrange Carefully. Make sure you arrange the potato slices nicely. The cake should be a little taller in the middle and thinner closer to the edges. Make sure you don't have clumps of potato slices stuck together.
Ingredients:
2 lbs. potatoes
¾ tsp. salt
¾ tsp. pepper
1 tsp. dried Italian herbs
3 tbsp. olive oil
1 cup shredded Parmesan cheese