Roast Pumpkin, Spinach and Feta Salad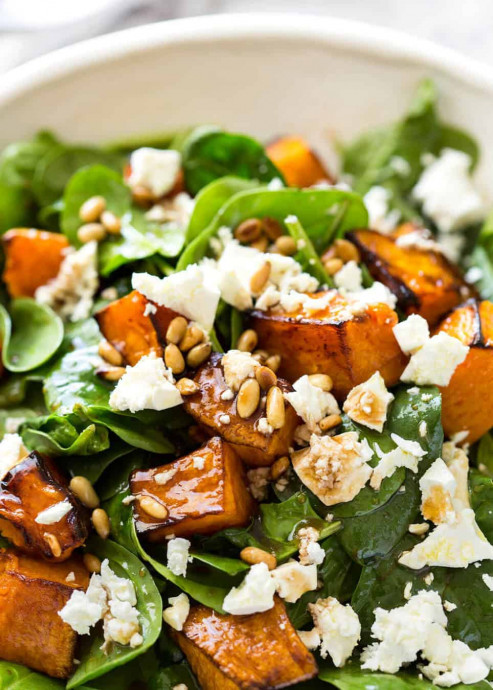 Try this Roast Pumpkin, Spinach and Feta Salad with Honey Balsamic Dressing for your next Sunday lunch! Terrific as a side or as a meal, this is a really magical combination of flavours.
I want to regale you with tales of how I always make this Roast Pumpkin, Spinach and Feta Salad for lunch with the girls. How perfect it is for a lazy weekend get together because it's make ahead and a crowd pleaser because it's got enough oomph to be a meal in itself whilst still being healthy and gluten free too. (Who else needs to cater for varying diets at get togethers??)
I've even recommended this to numerous friends who have come to me asking for ideas for make ahead lunch recipes. But truthfully, I have never made this for my friends. I can't ever embellish about what I've made for friends because weirdly, some of them actually read my blog and they would call me out. Some of these friends are serious corporate types, jet setting around the world, taking important meetings and working on top secret projects. It amuses me no end that in between reading board papers and information memorandums, they read my posts as I dribble on about whatever deliciousness I'm sharing on that day and Dozer antics. Te he he!!!
Today's deliciousness -> This Roast Pumpkin, Spinach and Feta Salad that I've never made for them.
Ingredients:
PUMPKIN:
600 g / 1.2 lb pumpkin (after peeling), cut into 3cm / 1.25" cubes (Note 1)
1 1/2 tbsp olive oil
Salt and pepper
DRESSING:
2.5 tbsp / 50 ml extra virgin olive oil
2 tbsp balsamic vinegar
1 tbsp honey
Salt and pepper
SALAD:
1/4 cup / 35g pine nuts (Note 2)
150 g / 5 oz baby spinach leaves (4 handfuls)
60 g / 2 oz feta , crumbled (or more!!)