Yotam Ottolenghi's Green Gazpacho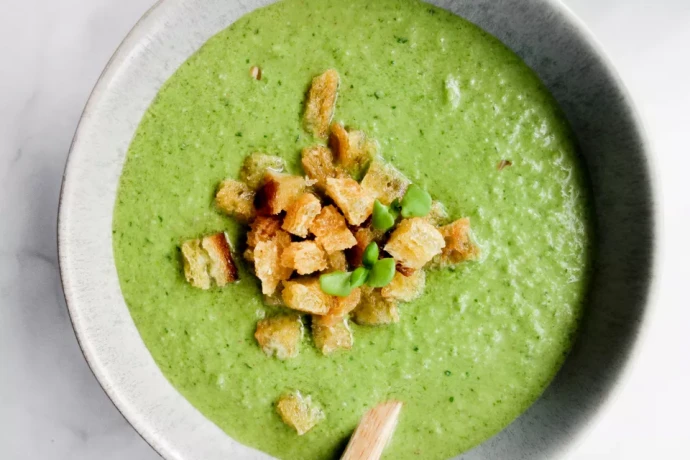 This Green Gazpacho recipe is from Ottolenghi's book, Plenty. As he states in the book, there are a million recipes for gazpacho, which he says is his favorite cold soup. This one, a green variation is loosely based on tarator, a cold yogurt and cucumber soup from the Balkans. A freestanding blender works best but a stick blender could also be used to bring the ingredients together.
As you can see from the instructions, this is the easiest of soups to make. There may be many ingredients but they are straightforward and require very little preparation. It is certainly worth the effort. A delicious soup and perfect on a hot summer's day.
Ingredients:
2 celery sticks (including the leaves)
2 small green peppers (deseeded)
6 mini cucumbers (12 oz/350g in total, peeled)
3 slices stale white bread (4 1/4 oz/120g in total, crusts removed)
1 fresh green chili (or less if you don't want it too hot)
4 garlic cloves
1 tsp sugar
5 1/4 oz/150g walnuts (lightly toasted)
7 oz/200g baby spinach
1 oz/25g basil leaves
1/3 oz/10g parsley
4 tbsp sherry vinegar
1/2 cup/110ml olive oil
1 1/3 oz/40g Greek yogurt
about 2 cups/450ml water
8 3/4 oz/250g ice cubes
2 tsp salt
Dash white pepper
For the Croutons:
Dash salt
1/2 cup/110ml olive oil
2 thick slices sourdough bread, (5 1/4 oz/150g in total)