Baked Salmon with Pesto Cream Sauce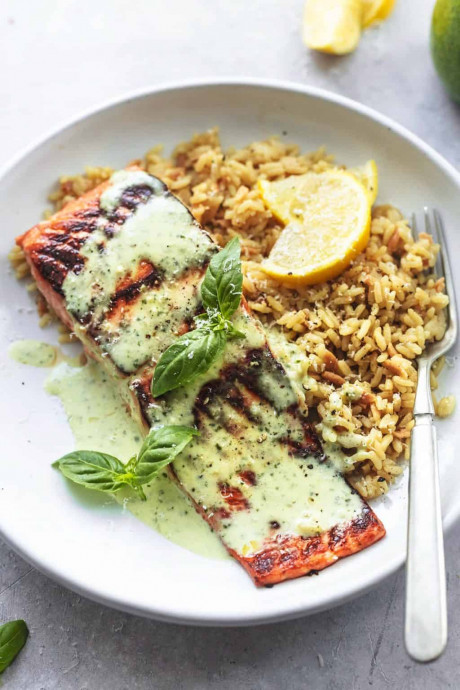 This easy recipe for baked salmon with pesto cream sauce takes tender, tasty, flaky salmon, bakes it at the optimal time and temperature, and then smothers it in a delicious, herby, garlicky pesto cream sauce. You'll never want to put your fork down!
Why This Recipe Works?
Easy – This recipe is as easy as purchasing the salmon fillet, seasoning, cooking on both sides for a minute, adding the pre-made pesto to the sauce, putting the salmon back in, and popping into the oven for about 15 minutes. That's it!
Healthy – Salmon is one of the healthiest fish out there. Packed full of protein and Omega-3s, this heart-healthy meat choice can really do no wrong, taste-wise, or health-wise!
Quick – Do you have 30 minutes? Then you have plenty of time to make this delicious baked salmon with pesto! (Yes, that includes prep + baking time!)
Great for Meal Prepping – If you are the type to prep meals throughout the week, I can tell you this baked salmon with pesto is perfect. Get your fillets for the week, bake them up in the sauce and divvy up among your prep containers for lunches or dinners throughout the week.
Ingredients:
4 salmon fillets
2 teaspoons olive oil
½ teaspoon Italian seasoning or Herbs de Provence
salt and pepper to taste
¼ cup basil pesto
½ cup heavy cream
½ cup chicken broth
1 tablespoon butter