Maple Cake with Maple Frosting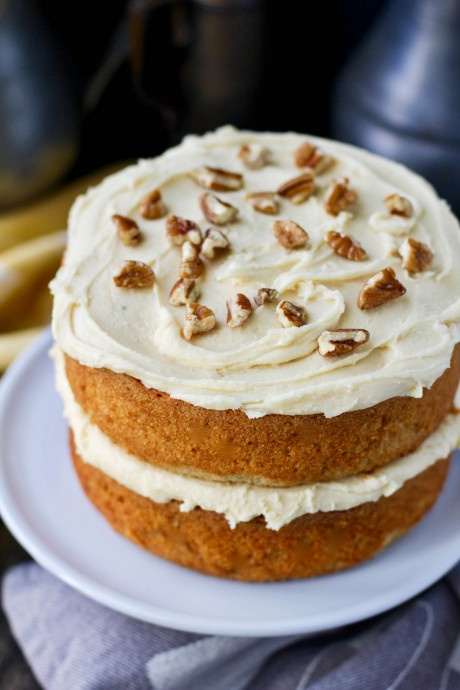 This Maple Cake with Maple Frosting is deeply flavored with dark maple syrup flavor in both the cake and the frosting. With 3/4 cup of butter and 1/2 cup of maple syrup, the cake is super moist and flavorful. Each layer is topped with a frosting of butter, confectioner's sugar, and maple syrup. Top the frosting with toasted pecans for a delicious fall flavor.
This cake is pretty easy to make and still looks pretty. Plus, it's a smaller cake, with 6 inch layers. Just enough cake but not too much.
Everyone who tried this cake raved about it. Having a slice of this cake might actually remind you of eating waffles or pancakes with maple syrup. In fact we may or may not have had a small slice of this cake for breakfast.
For the syrup, if you can find it, use Grade B maple syrup for a more intense flavor. I couldn't find grade B, but I was able to find pure maple syrup that was labeled "dark." Please, don't substitute the "breakfast syrups" that are "maple flavored." You want the real thing.
Ingredients:
For the Cake
200 grams (1 1/2 cups) all purpose flour
1 1/2 teaspoons baking powder
1/4 teaspoon baking soda
1/4 teaspoon salt
3/4 cup unsalted butter, softened
74 grams (6 tablespoons) granulated sugar
1/2 cup pure maple sugar
1 egg, room temperature
1 egg yolk, room temperature
1/2 cup plain full fat yogurt, room temperature
3/4 teaspoon pure vanilla extract
For the Frosting
1/3 cup maple syrup
3 tablespoons unsalted butter, melted
2 1/2 cups confectioners' sugar
1/4 teaspoon vanilla extract
1/2 teaspoon salt
1/4 cup chopped pecans, lightly toasted