California Roasted Sweet Potato Kale Salad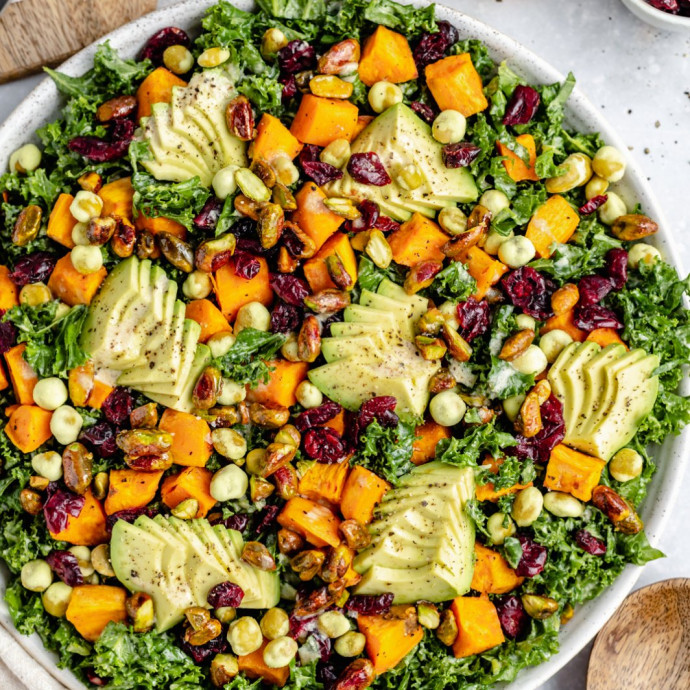 Gorgeous California roasted sweet potato kale salad with dried cranberries, avocado, sweet & spicy pistachios and a creamy garlic tahini dressing. This vegan sweet potato kale salad is bursting with flavor and easy to customize with additional protein! The perfect veggie-packed lunch or dinner during the week. This salad was inspired by one of my go-to take out spots in Chicago and their fabulous kale salad. I simply can't get enough. It's made with the most ridiculously good garlic tahini dressing, plus there's roasted sweet potatoes, crunchy wasabi peas (or you can sub roasted chickpeas!), sweet cranberries, creamy avocado and my special touch: sweet and spicy toasted pistachios.
Now, doesn't that just sound fabulous? Well, trust your girl and make this salad. I crave it all the time. It's perfect with a hearty protein like chicken or salmon, or lovely on it's own. Bonus: it's delicious even after a few days in the fridge! Get ready to fall in love with the textures and flavors in this vegan kale sweet potato salad. From the creamy dressing to the tender sweet potatoes and crunch from pistachios, every bite gets better than the next.
Ingredients:
For the dressing:
¼ cup tahini
½ teaspoon garlic powder
2 tablespoons freshly squeezed lemon juice
1 teaspoon pure maple syrup
1/2 teaspoon dijon mustard
½ teaspoon salt, plus more to taste
Lots of freshly ground black pepper
2-3 tablespoons warm water, to thin the dressing
For the salad:
1 tablespoon olive oil
1 medium to large sweet potato, cut into ½ inch cubes (or 2 cups cubed sweet potato)
1 bunch of Tuscan kale, stems removed and very finely chopped (or 8-10 cups chopped kale)
1/2 cup dried cranberries
1 avocado, sliced or diced
½ cup wasabi peas* (or roasted salted chickpeas), for crunch
For the sweet and spicy pistachios:
½ cup shelled roasted pistachios
1 tablespoon pure maple syrup
¼ teaspoon cayenne pepper
Sprinkle of sea salt