Swiss Chard And White Bean Soup With Basil Pesto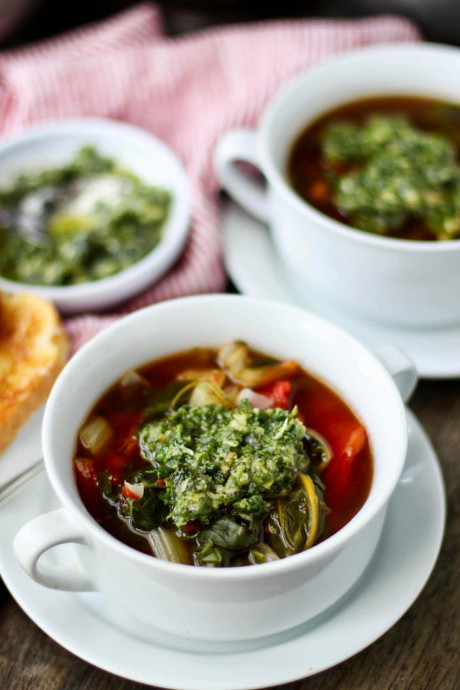 This Swiss chard and white bean soup with basil pesto is a quick and easy dish you can put together for a delicious lunch or light and nutritious dinner. This soup on it's own is very flavorful, but topping it with a basil and Parmesan pesto takes it to another level. The pesto is a take on French pistou, which does not contain pine nuts (or nuts of any kind), just olive oil, basil, Parmesan, and garlic.
By the way, if you have any leftover pesto, save it to spread on crackers, crostini, or fresh sliced French bread. Save it in the refrigerator and bring it back to room temperature before enjoying.
We had this soup with French bread slices brushed with olive oil, sprinkled with Parmesan, and toasted. We couldn't get enough. Dip the cheese toast in the broth and enjoy. You'll thank me later.
Ingredients:
For The Soup
1 pound Swiss chard
2 cups beef or vegetable broth
1 - 15 ounce can cannellini beans, rinsed and drained
1 medium tomatoes, chopped
1/2 teaspoon each salt and freshly ground black pepper
For the Pesto
1 cup fresh basil leaves
4 tablespoons extra virgin olive oil
4 tablespoons finely grated Parmesan cheese
2 cloves garlic, roughly chopped
1/4 teaspoon freshly ground black pepper
For the Parmesan Bread
4 slices French or Italian Bread
2 tablespoons extra virgin olive oil
2 tablespoons freshly grated Parmesan cheese